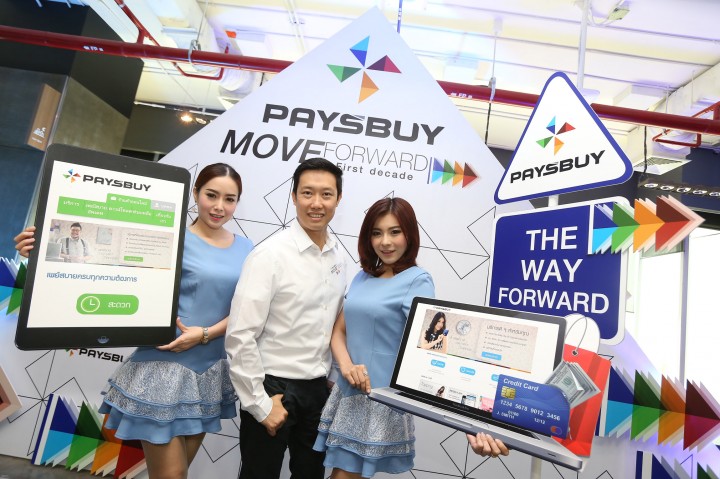 E-commerce is really big in Thailand. Even with the ongoing political protests, the sector isn't slowing down. Although 2013 was a year of booming e-commerce in Thailand, the country's culture of shopping online goes back a lot earlier. Indeed, one of the country's leading online payment service providers, Paysbuy, celebrates its 10-year milestone today.
Founded back in 2004, Paysbuy became a subsidiary of Dtac, one of the leading telcos in Thailand, in 2008. Paysbuy is the first e-wallet service provider in Thailand and now provides a wide range of online payment options, including credit cards, bank transfer, and cash at counters.
Somwang Luangpaiboonsri, the general manager of Paysbuy, revealed at the firm's 10-year celebration event in Bangkok that the company's revenue grew 25 percent from 2012 to last year. Payments made via Paysbuy channels totaled over BHT 2 billion (US$61 million). For 2014, the company forecasts growth in revenue of 35 percent.
To celebrate the milestone, the company plans to launch four new service initiatives this year.
Prepaid cash cards for making online payments
Virtual prepaid cards for online shopping with Visa or MasterCard
Mobile credit cards for making payments for goods or services via apps
Payment on delivery (POD) that allows customers to pay upon delivery of the goods (both cash and credit cards using mPOS)
Also, the company will start partnering with Alibaba's Alipay to allow its customers to expand to the Chinese market.
Luangpaiboonsri explained some e-commerce trends that the company saw in the past year.
Last year, the payment proportions were 38 percent credit card, 32 percent cash, and 30 percent internet banking. Paysbuy has more than 500,000 registered accounts. Among these, 51 percent are male and 49 percent female. 32 percent in the 21–30 age range, 28 percent in 31–40 age group, 16 percent in 41–50 age group, 13 percent aged less than 20 years old, and 11 percent aged over 51 years old.
Currently, Paysbuy provides online payment services to more than 10,000 online merchants. With the speed that the market grows, the company expects to have more than 1,000 new merchants by the end of 2014, increasing its market share in the nation to 10 percent this year.
With four services launching and a big goal for this year, it seems Paysbuy is putting up a real fight against its regional competitors such as 2C2P (Aung, one of the young startup's founders, created Paysbuy) and global competitors like Paypal.
(Editing by Steven Millward)