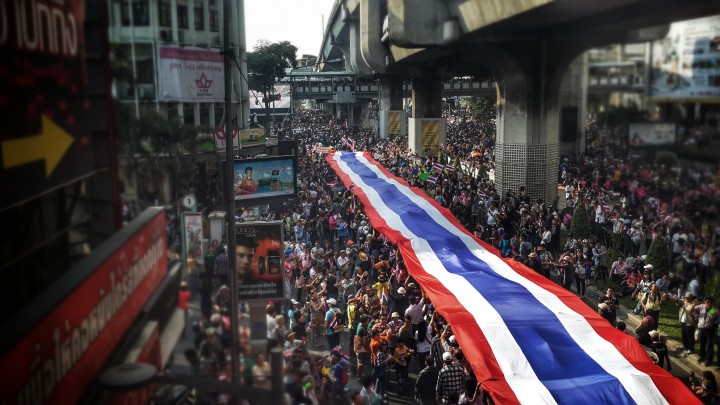 Amid the months of Thailand's political unrest, Thais have not stopped shopping. Tech in Asia reported before how e-commerce is actually doing well during the protests because, well, that's what people do when they can't leave the house. However, in order to keep the online business going, companies must still be able to deliver the products as promised.
As speed and accessibility are the key, deploying motorcycles as a means of delivery is a gimmick e-commerce sites relie on.
One of Thailand's leading e-commerce portals, Rakuten's Tarad.com, recently resorted to a hand delivery service within Bangkok, including inside protest areas. Coordinated with Alpha Performance Group, the e-commerce site started a new service called 'Hotline Express Messenger Post,' which was initiated to serve people who live or spend time in the protest and face major inconveniences when shopping offline. The new service will allow the company to deliver the products the day after they are ordered.
Smaller online store Pomelo, which aims to bring high-street fashions from Tokyo, Hong Kong, and Seoul to Thailand, also started a hand delivery service using motorcycles this week. But since it's a fashion brand, a normal motorcycle wouldn't do. Pomelo chose Vespas, the classic Italian scooters. The startup claims the new service can deliver goods to customers in Bangkok in a record time of three hours. The fashion startup also shared that, regardless of the political situation, Pomelo still receives 8,000 average page views per day.
A platform builder for e-commerce, aCommerce also works with its customers, including Line, to offer one day delivery in the Bangkok area. According to the company, its delivery fleet has managed to achieve its goal of 95 percent on-time delivery, even during protests. aCommerce head of operations James Lamrock in Thailand explains:
We are monitoring the situation very closely, and we always put our employee safety first. Some deliveries have been held back where the drop location was in a heavily-affected area, and for these customers we arranged compensation and/or alternative drop-off arrangements.
(Image credit: Instagram user 3ho8)
(Editing by Paul Bischoff)