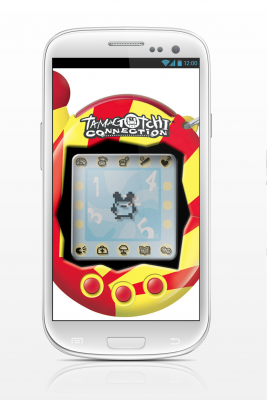 I'm not gonna lie. When I was in middle school in the States, Tamagotchi was the coolest thing. It was either Pogs or Tamagotchi. My classmates and I would carry the little plastic nuggets in our pockets every day: feeding it, petting it, playing games with it, and making sure it didn't die like a real pet. Tamagotchi and anime were the biggest things to hit America from Japan in the late 1990s, so hearing it come back in the early 2010s to Android, launching just yesterday, sends waves of nostalgia through my body.
For those not in the know, Tamagotchi was a digital pet that you could fit into your pocket (pictured right) and was sold by Bandai in 1996. It was a huge toy craze in the late 90's by. At the height of its popularity, schools were banning it because kids had to take care of the pet all day long lest the cyber creature die of starvation. As of 2010, Bandai had sold over 78 million of the little toys. It was one of the most addictive and distracting electronic toys before Steve Jobs introduced the iPhone.
These days, California-based Sync Beatz has licensed the brand from Japan's Bandai, and newly released it for the smartphone age as Tamagotchi L.I.F.E. (meaning 'love is fun everywhere') for Android. Bandai has released a different Android app in the past. Think of it as a sort of 90s throwback and tribute. You would think this has got tons of potential in the age of smartphones that have CPUs more powerful than Apollo 13 and can handle graphics-heavy games like Max Payne. Alas, the little virtual pet isn't just retro, it's outdated.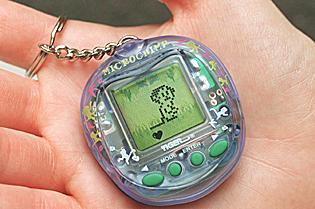 The app opens with a triumphant 8-bit game soundtrack, reminiscent of Pokemon (you'll want to lower your phone's volume levels before proceeding). The graphics for the pet are basic pixels like the old version, so how do they expect to compete with all the other graphic-rich games in the Google Play store? Also, the app often notifies users with "Tamagotchi is calling you" but doesn't say exactly what for. Should I feed it? Should I play with it?
On the other hand, there are a few added features that make the app slightly better than the device of yesteryear. Players don't have to stick to the old three-button view and can tap on specific activities with the pet to do things like 'rock paper scissors' and feeding. There's also Facebook integration, which allows players to share pictures of their pet to their friends.
Sync Beatz plans to update the app every two months to add features and bringing the app to iOS. The app is free with ads or costs US$0.99 for no ads.
Question is, will this appeal to kids of the 21st century? I don't think so. The graphics alone, though cute, will be a killer for Tamagotchi L.I.F.E. Also, virtual pets have evolved in leaps and bounds since the late 1990s, not just in graphics. From Zynga's PetVille where players could decorate a pet's sophisticated house with furniture and clothing, to this list of Android's leading virtual pet games where your digital pets can go fishing, maintain crops, and interact with friends. So I don't think Bandai's got a chance. Users want geo-location, interacting with friends, more complex puzzle games, and beautiful graphics. Kids these days have a much higher bar for games – so rehashing old games just isn't enough.
You can download the Tamagotchi L.I.F.E. at the Google Play Store here.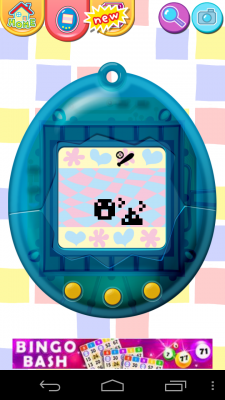 Written in collaboration from my colleague, Youshen Lim.