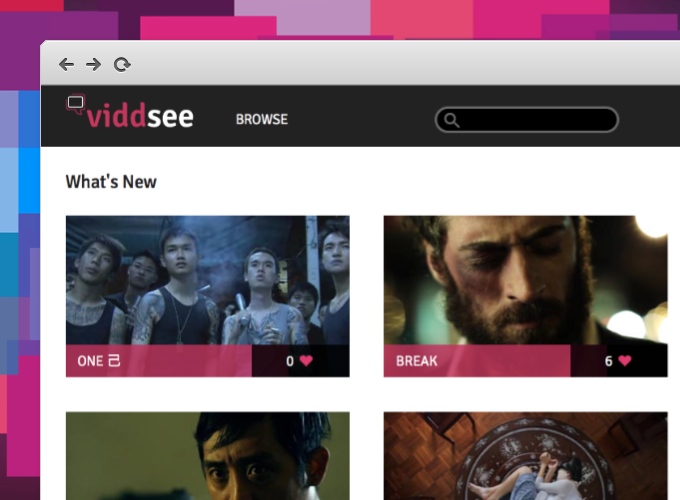 Two filmmakers have launched a new site today that aims to be a hub for Southeast Asian short films. Called Viddsee, it will showcase the best indie directors in the region for a worldwide audience whilst also letting users rate the films for the quality of the story, acting, camera, and sound.
Co-founded by filmmaker-engineers Ho Jia Jian and Derek Tan, they hope that Viddsee, as a socially-equipped site with a light touch of curation, can help these short films become more accessible. They also believe that "short films are the new movies of the social web age." Ho adds:
While content is readily available over the internet today, it's still hard to find culturally contextual content from Singapore and around Southeast Asia. We hope to showcase a variety of uniques stories shot by Southeast Asian filmmakers, and to empower the audience to discover new content from their very own countries.
The Singapore-based duo are, Ho tells us, the only Viddsee employees right now. It's also, he admits, "our first time building a startup from the ground up," though both he and Derek "have been involved in building an internet TV platform, TV applications, and a mobile app while at a local pay TV operator previously."
Viddsee is being supported by Action Community for Entrepreneurship (ACE), and has received funding through the ACE Startups Grant program. As we noted last year, Singapore's ACE generally gives S$50,000 (US$40,000) in each grant, and aims to support 500 startups as part of its scheme.
For now, Ho explains, Viddsee is concentrating solely on short films rather than feature-length movies, but it's a possible area for expansion "in the future as our community grows."
The site looks great and is definitely one I'll bookmark and return to. Most of the videos are hosted on Vimeo, so you can also enjoy fast-streaming and full HD.
One other regional filmmaker, Ray Pang, is already a fan of the site, saying in today's announcement that his profession is about storytelling, and so "every audience counts." Three of his award-winning shorts are being showcased on the site right now, including Break.