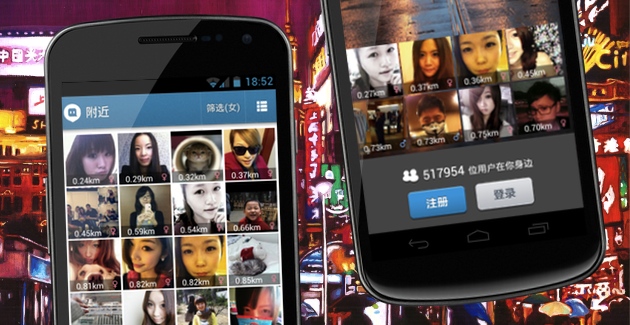 One of this year's most prevalent trends among startups in China has been for sexy-looking location-based apps that help you chat – or hook-up – with people nearby. And here's another, called Momo app, by a Beijing-based startup called Momo Tech.
Momo now has a brand-new app for Android, as well as its iPhone version which has been around since August. In that time, the startup claims to have garnered 500,000 users, and will be hoping the Android platform can strengthen that further.
The Momo app uses the tagline "Hello stranger" – which gives a good indication of what this is about: using your smartphone with its GPS to see who's nearby and perhaps chat with them, for conversation, curiosity, or possibly even dating.
---
Making Friends…
---
Unfortunately, there's no third-party login, so a separate registration needs to be made within the app. Once in, you just create a quick profile, and off you go. There seemed to be no shortage of people on in my area, most of whom had been online today. After this point, it's a pretty conventional IM service, with buddies you can add and chat to, profiles to view (pictured above), or black-lists you can make if there any annoying folks.
Momo integrates well with Sina's (NASDAQ:SINA) Weibo, so for users who've chosen to link the service, you can browse their full Weibo timeline from within the app. It does everything well, but it inevitably fails or succeeds on how it can retain users in the face of so many other apps like this.
These apps – which seem to be a phenomenon in China where youngsters can find it hard to connect with new people – could well be wiped out before they've even started, as social media giant Tencent (HKG:0700) has added a LBS-based chat feature into its popular group-messaging app, Weixin. And because that has 50 million users – and growing – such a niche app as Momo and its counterparts could well be swallowed up by this new feature, especially if other group-messaging apps make use of it as well.
To give you some idea of how many such LBS find-and-flirt chat apps there are out there, we've recently looked at Youjia, Mojing, and Mix.
Try out Momo for Android on the Android Market; the iOS version is on iTunes.
[Hat-tip: Toumingti (article in Chinese) for spotting this]