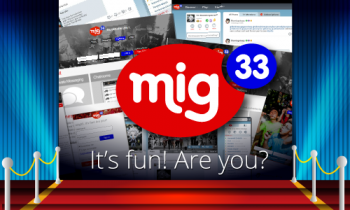 It's been a while since we last heard about Mig33, a social network for feature phones based in Singapore. The company is revealing today that it's heading towards a different direction by becoming a social "miniblogging platform" – to use Mig33's phrase – and making it available on more platforms like smartphones and in any browser.
We spoke with co-founder and CEO Steven Goh about why he believes Mig33 can disrupt the market owned by social networking giants like Facebook and Twitter.
Steven clarifies that previously Mig33 was seen more as an instant messaging product and social gaming for feature phones, and now it changed to become a micro blog product on all platforms, similar to Sina Weibo or Twitter. Steven says that he understands quite well that messaging apps like WeChat, Line, and KakaoTalk are very present in the messaging app market, and he's not looking to compete with the likes of them.
Instead he is eyeing competition with the likes of Facebook and Twitter in the region. When determining what direction the team should pursue, the idea is to build a platform that can cater to large audiences – and to do what Facebook and Twitter aren't doing. This is where the microblogging platform comes in.
Playful social platform

Steven believes that social media platforms are changing quite a bit, and so are instant messaging products. Facebook's growth is getting disrupted with the rise of new engaging players like Path and Instagram, and he believes that there is room for disruption among microblogging platforms like Twitter in Asia as well.
There are two main things that Mig33 looks to offer compared to Twitter. First is a higher character limit per post; Mig33 lets you type 300 characters, whereas Twitter caps tweets at 140. Second – and this applies to Mig33's differentiator to Facebook too – is that Mig33 is fundamentally more playful. On Mig33, users can chat with other users, use emoticons, gain levels, and unlock badges.
Mig33 has a feature whereby users can change the site look and feel from a Twitter-like RSS feed to a grid layout. And of course, Mig33 can also serve as a gaming platform too. Steven says:
What's also exciting for us is that we'll be applying our games and monetisation platforms to our broader service. Whilst we've been able to drive traffic to games, engagement and monetisation has proven illusive. Miniblog is a great format for solving that problem.
Money talks
Mig33 will earn its revenue in a similar fashion to its previous business model, which is by selling virtual items like emoticons and gifts. While doing research, the team found that a few celebrity accounts on Mig33 are getting more engagement from its users than similar accounts on Facebook and Twitter.
One example is the Indonesian singer Shae G. She has more followers on Mig33 than on Facebook and Twitter. Shae also gets more user engagement on Mig33 than on Twitter using the same exact post, as pictured below. There are other accounts that are getting better engagement on Mig33, like Prambors Radio and dangdut singer Lina Lady Geboy. One of Mig33 plans is to earn money with an audience building tool.
With a large feature phone user-base – who are the majority of Indonesia's phone users – the team says that Mig33 is a place for celebrities and brands to connect with Indonesia's masses.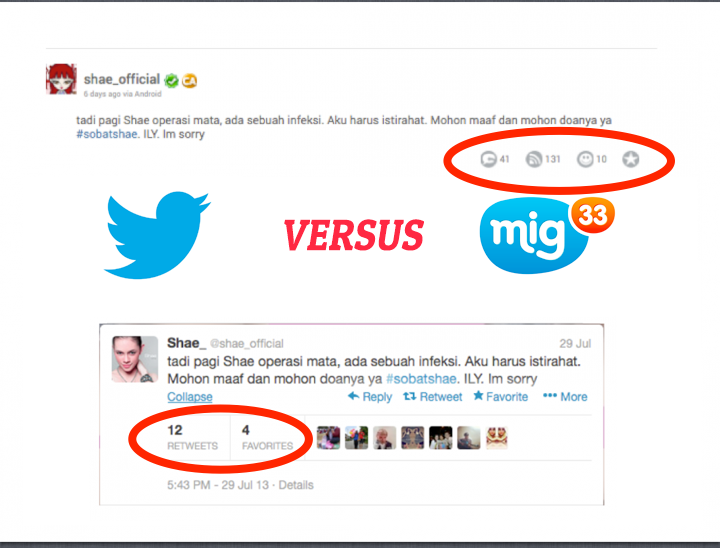 New look, new feel
The revamped Mig33 platform also comes with a new logo that shows young people having fun, rather than the previous cartoony robot. There's also a new tagline. CMO Chris Reed explains that they "want to refresh the message that it's all about fun" with this makeover. Furthermore this new look "communicates a fresh, vibrant, passionate and fun look and feel," adds Chris.
At the moment there are over 70 million registered users on Mig33. The startup has accrued more than five million chatrooms and 400,000 groups. In the near future the team will be partnering with more content providers, media, celebrities, and brands to keep its new platform going.
In its new form as a microblogging platform, do you think Mig33 will be able to grow strongly in the region?
(Editing by Steven Millward)