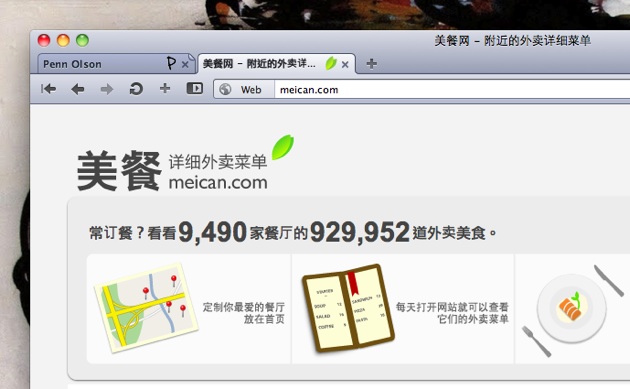 In the online-to-offline (O2O) e-commerce sector, being useful is more important than having spectacular features – but MeiCan is trying to change that, making the act of ordering take-away (or take-out) food into a slick web experience.
The MeiCan service – which can be translated from Chinese as 'the Meal Network' – is a Beijing-based start-up with a neat web app (and a mobile client on the way later this month) that partners with restaurants to make a centralized food ordering and delivery system. The small company's two founders, Zhao Xiao and Xu Yang (pictured below), aim to make local take-away deliveries as simple and pleasant as a good hotel's room service.
The service is limited to Beijing right now. Basically, you just search for the kind of meal you want, and MeiCan shows you a list of restaurants who have varieties of such a dish. You then click the item, and repeat this for any other type of food. In contrast to most other (and simpler) delivery services in China, you can pick out dishes from numerous restaurants to comprise your meal.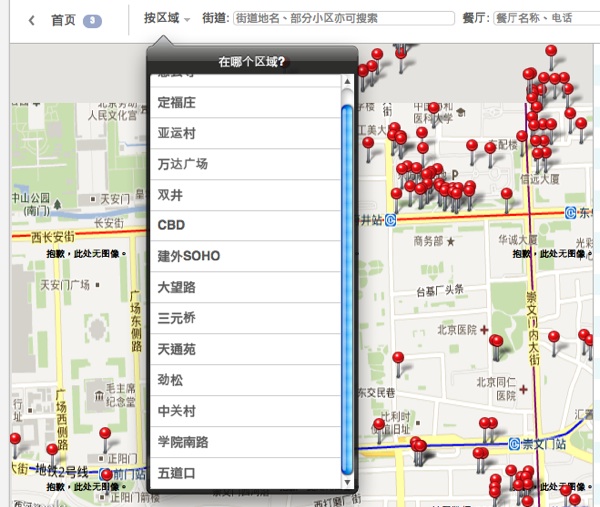 Alternatively, you can just use the map (pictured above) – which has some nice, iPad-esque design touches – and select some delivery items from nearby places, for maximum delivery speed.
The start-up will be easy to scale, with scope for spreading to a number of China's wealthiest cities that have the kind of hotel-bound businessmen, harried office workers, and busy families who can make regular use of such an O2O service.
Co-founder Zhao Xiao tells DoNews that a food-based business was a no-brainer, being an absolute necessity, and because current services left out a lot of details and potential features. MeiCan claims more than 10,000 registered users, and a purely theoretical 3.65 billion yuan worth of food ordered via the site at its 9,500-ish partner restaurants. That's a purely speculative number, but it's a sign of health in this O2O e-commerce sector, where orders earn anywhere from 10- to 20-percent commission for MeiCan, depending on the kind of restaurant.
Give the MeiCan site a try here.
[Source: DoNews – article in Chinese]