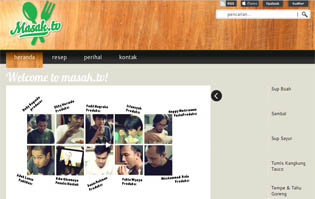 University can be a tough time for students from all over Indonesia, living in rented rooms and missing their families. Sometimes overseas students are craving home-cooked meals. The founders of the cooking show startup, Masak.TV, had the same feelings when they were at college.
Masak.TV presents a cooking tutorial video podcast with young chefs Faisal Lanin and Tirta Pane. It also features chef Alvin Maulana – aka Mr. Ribet (meaning 'busy') – who shares simple tips for preparing cooking ingredients. They share the same culinary passion, and carry Masak.TV's mission to make cooking look easy and fun. The target audience is young people overseas who might be missing simple home-cooked meals.
Alvin once worked as a head chef at the Madam Kwok restaurant, Epicentrum Kuningan mall, Jakarta. But for now, he works as an executive chef in Cabal Dining and Lounge, Manado, North Sulawesi. Alvin said that the Masak.TV concept came to life when they met head of production house Bagindo KPS, in Pulomas, Jakarta. They finally launched their cooking show on November 2010. Alvin explains:
We choose this format because online TV is more easily seen by all people no matter where they come from. We make this show look relaxed, because we are all still young. I'm only 24-years old. It's more cool to make the show not too heavy and stiff. Our mission is to bring "easy cooking and [make it] enjoyable."
Masak.TV collects donations to fund its website via PayPal, and it uses media spot advertising to attract sponsorship. It's still growing with 7,528 YouTube viewers and the crew also spreads simple cooking tips on its Twitter account while reaching out to other chefs to share their knowledge. A mobile app is on the way to make content easier to enjoy anytime.
The folks at Masak.TV hope people are not afraid anymore to experiment in the kitchen. You can even bring your iPad to replace your cookbook with cooking videos. Give it a try! Bon appetit!