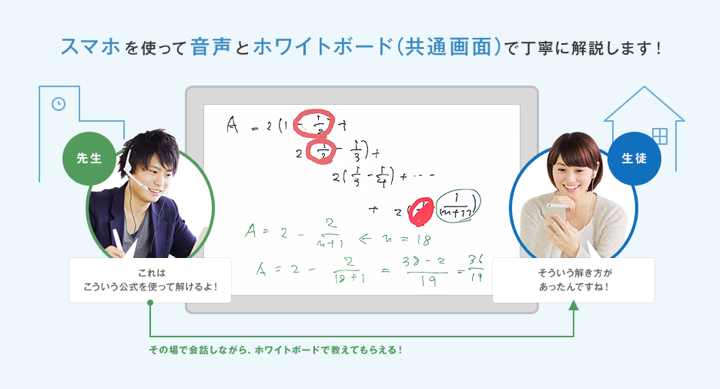 Tokyo-based online education startup Mana.bo is aiming to disrupt Japan's deeply entrenched juku (cram school) market by moving lessons online. The company founder and CEO, Katsuhito Mihashi, was a juku tutor for more than six years. In that time, he taught around 1,000 students – many of whom were struggling to receive help outside of the classroom.
"Some would send me attachments with math equations, and I would try to help them via email," Mihashi told Tech in Asia. "In other cases, they would call me to ask for an explanation of a difficult physics problem. We were at a loss about what to do when dealing with students who want to understand a question without being physically in front of the teacher, and to fill that gap, I created Mana.bo."
Students simply take a photo of a problem and send it to available tutors, who receive a notification on their mobile device. Tutors check the problem and let the student know they're available to help. Once the student selects a tutor, they can can then initiate a voice or text chat with a virtual whiteboard. Handwriting strokes appear on the student's smartphone, tablet, or PC screen in real time.
Disrupting a $10 billion industry
The service, which primarily targets junior high school and high school students preparing for Japan's rigorous entrance exams, provides a cost-effective alternative to brick-and-mortar cram schools.
Unsatisfied with the quality of education at regular schools and under pressure to ensure their children can pass entrance examinations – standard practice for Japanese high schools and universities – Japanese parents have helped make juku a US$10 billion industry. Monthly fees for traditional juku can range from $500 to $1,000 – roughly 10 percent of a family's household budget. Mana.bo, on the other hand, will offer a comparable online service for only $100 to $200 per month.
"Entering the C2C market was difficult because parents were skeptical about a web-based tutoring service as opposed to a traditional juku," says Mihashi. "In the long run, however, parents will accept these technologies. Parents can't really see their child's progress at a juku, unless they actually sit in on each lesson. We can provide session data to parents and inform them about strengths and weaknesses directly."
Without brand power, Mana.bo was no match for the long-established juku industry. To build a name for itself, the startup partnered with Benesse, one of Japan's largest correspondence education and textbook providers. As of April 1, Mana.bo is available exclusively to Benesse clients – but the company plans to offer direct services in the future.

"If we can get just a small number of traditional juku students to shift into our service, decrease the reliance on those kinds of businesses, then we have a great chance of breaking into the market," says Mana.bo finance director Koichi Tsunoda.
See: Startup gets $5.8 million to make elearning fun, expands to Southeast Asia
Mihashi gives two reasons for why now is the time to enter the online juku playing field:
First is the rising popularity of tablets. Students who are studying math and physics, especially, need a lot of space to write an equation. Second, the edutech market is a US$1 billion market in Japan and a US$100 billion market globally. In Japan, that figure will increase to US$1.5 billion by the end of the year. In addition, VC investment has grown by four times in the past four years, to US$400 million last year.
One domestic VC has already taken note. Mana.bo received US$374,000 in seed funding from CyberAgent Ventures last year. Mihashi wouldn't divulge whether or not Benesse has provided financial assistance.
Mana.bo faces competition from a crowded field of online English study platforms, but will focus primarily on math and science.
Who can be a tutor?
Most Japanese cram schools hire certified teachers or undergrads from the country's most respected universities to work as tutors. Mana.bo, which expects to serve one million students in the future, will require about 100,000 tutors – so the company is looking to break the mold of the typical juku sensei.
"Tutors don't necessarily have to be from the top-notch schools," Mihashi says. "A housewife who studied engineering in college could make some money on the side by helping students. There are a lot of potential tutors that don't necessarily have to be qualified as career teachers."
The company is also working on what it calls a "mass equation analysis engine" to save lessons for future use. Mihashi explains that writing an equation on the virtual whiteboard turns it into a digital one. This technology will allow Mana.bo tutors to reuse tutoring information for future lessons – further lessening the need for certified teachers:
This way we don't have to throw out all of the tutoring data every time a student asks a question. We can store it on our database and keep them as an asset, for example, recommending a past tutoring session that was effective to new students based on their demographics – what they're studying for and where they're going to school. This will save our tutoring resources and provide more solutions to clients.
Mana.bo currently employs five full-time staff members and an undisclosed number of tutors. The core team will grow to 16 by the end of the year.