(Updated: We tinkered with the headline a little bit).
While we occasionally see apps being put at optimistically premium prices, a few developers dare sell their app above the US$100 mark. Meet Indonesian developer team Mahoni and its flagship iOS app Themis Reader. The team claims that the app is the most expensive one made in Southeast Asia, and that it is actually selling. How much is the app? $300.
Themis Reader offers close to 10,000 legal documents and regulations made by the Indonesian government. Of course, those who use the app are people making their living in the legal profession, and Mahoni's Santoso Suratso argues that these people, whether they be judges, attorneys, or law makers, are making huge money. $300 is nothing to them.
The inspiration behind this expensive app came when the team was dealing with a law-related issue. At that time, their lawyer had to use lots of law books and there was this problem when an associate had gone home with one of the needed books. Santoso thought that there must be a better way for them to look up those regulations.
The journey to build Themis Reader is also a grueling one; Santoso explained that it involved 10 Macs, 10 full time staffers, and two years to get the app into what it is today. In between, the team also had lawyers overseeing and advising them on the app development. So the effort and capital required to build the app itself were quite significant.
The team updates Themis Reader every week. It has every regulation made by the Indonesian central government, but Themis Reader still doesn't have regulations made by each district. Santoso is happy to say that they've achieved profit from its Themis Reader app.
Room for more newsstand apps in Asia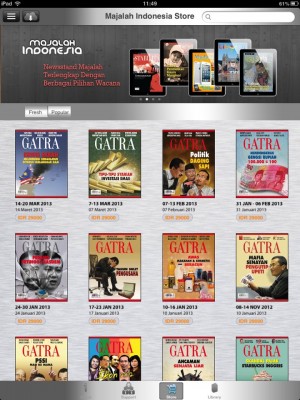 Besides Themis Reader app, Mahoni also creates e-book apps for businesses. They have had quite a few Indonesian celebrities onboard like religious leader Aa Gym and motivator Andrie Wongso commission Mahoni to build their apps. The team has built its own e-bookstore apps too for segments like religion and children.
Santoso tells me that the e-bookstore apps will continue to be developed seriously by the team. Regarding rival Scoop's investment by publishing giant Kompas Gramedia recently, Santoso said that so far there is no different treatment given by Kompas Gramedia when publishing their books on Mahoni's apps. Whenever possible, writers and publishers would want to make sure that their books are available on as many platforms as possible. So there still be room for Mahoni here.
Mahoni will look to revamp its newsstand apps with more features later this year to help stand out from the competition. Santoso then teased that the app won't only act as a store in the future, but also as an entertainment platform.
Cooking up a new app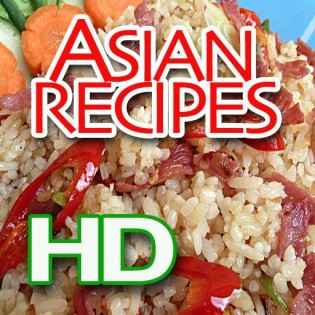 One interesting thing Santoso told me is about the company's line of cooking recipe apps. One of its many recipe apps, the fried rice recipe app once reached the second spot on iTunes' overall app ranking in Indonesia. It all started when the team wanted to help a lady share her cooking recipes with the world, and help her earn money out of it. Mahoni helped with the app development – including taking pictures of the dishes – and marketing.
Santoso said that they are now compiling all their recipe apps into one big Asian recipe app, and are targeting it at the international market. All of the profits are of course shared with the cooks. Santoso likes to see this side of the business as doing social good for housewives.
Mahoni records 2,000 daily downloads across its 50-plus apps. They are on course to achieve the target of 500,000 downloads for this year.