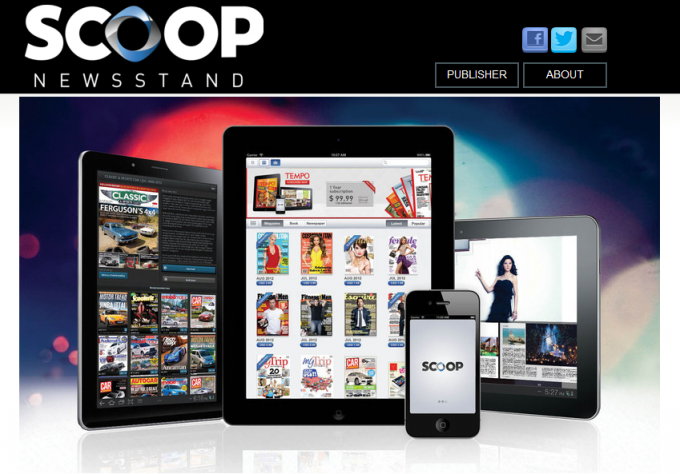 Magazine and e-book reader app Scoop has raised S$3 million ($2.4 million) from PT Gramedia Digital, a subsidiary of Indonesian media giant Kompas Gramedia. Prior to this Series B funding round, Scoop previously announced its exclusive content partnership with Kompas Gramedia.
Developed by Apps Foundry, Scoop now has 650,000 downloads, 90 percent of them from Indonesia. It has 210,000 monthly active users and delivers over 1.8 million pieces of digital content annually, including 50 daily newspapers and 90 percent of magazine publishers in Indonesia. Scoop also revealed in the press release that 80 percent of its revenue comes from iOS devices.
With the new war chest, founder and CEO Willson Cuaca (1) says that his company will be focusing on talent retention, talent acquisition, new products, and also regional expansion, specifically in Singapore, Malaysia, the Philippines, and India. When asked on for his thoughts about the investment, he told us:
It is quite encouraging that this is the first time Kompas puts investment in a startup. They normally build themselves or acquire. Kompas is taking a non-controlling stake which is quite rare for their organization.
Edi Taslim, Kompas Gramedia Digital Group's Director said in the statement that "Kompas Gramedia has to invest in companies that demonstrate multinational competitiveness and/or expansion in the future." If I'm not interpreting it wrongly, Kompas Gramedia may be in the mood to explore even more investment and acquisition opportunities to realize its regional ambition. Taslim shared more in the statement:
While building on our own traditional strengths, we want to minimize risk by staying on top of current trends. We can also take advantage of our parent company's extensive network of offices and affiliates to support companies such as Apps Foundry with cross-border expansion in the desired countries or markets in the region.
Prior to Kompas Gramedia's investment, Apps Foundry was invested by East Ventures, Gobi Singapore, and Mitsui Global.
---
(1) Disclaimer: Apps Foundry, the creator of SCOOP, is an East Ventures portfolio company. East Ventures also invested in TechInAsia and Willson is also a good friend/mentor of mine. See our ethics page for more information.