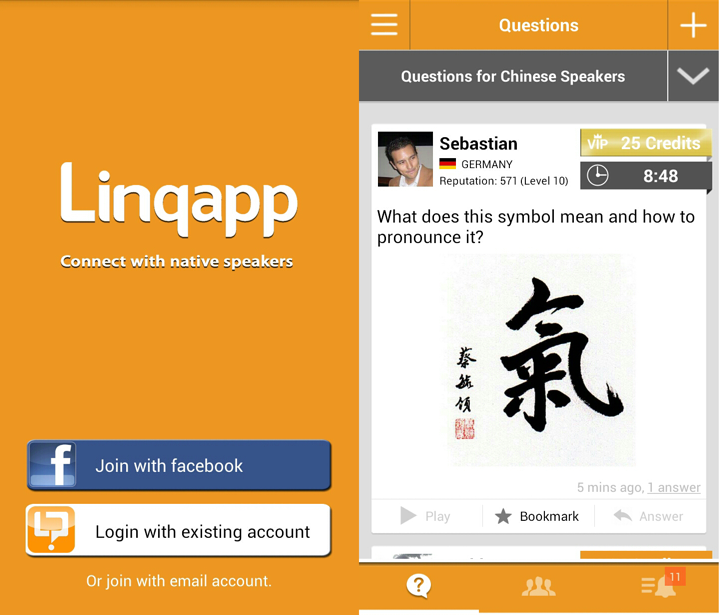 Mobile technology has provided language learners with various apps to ease the awkwardness of practicing a foreign tongue. Waygo and Flitto help the China and Korea-bound with automated signage translation, and Practice helps users find casual language exchange partners.
But sometimes, when in a pinch, there's no substitute for an actual native speaker's assistance. Maybe you're in a taxi and you need to specify directions to your hopelessly lost driver, or maybe you're at an airport and misplaced your boarding pass.
Unfortunately, there's currently no app on the market that makes friendly native speakers appear out of thin air. But the Taipei-based team behind Linqapp, a new Android app that launches for the public today, hopes that they can provide users with the next best thing. By connecting language-learners with native speakers in real time, Linquapp aims to be the mobile app that most efficiently resolves all foreign language-related conundrums.
Building a community of learners and helpers
At the core of the app is a community of users from around the world, all of whom are dedicated to helping each other. When a user needs instant language-related assistance, he or she can submit a question to the platform's group native speakers, who will then receive a notification on their phones.
For example, let's say you are at a restaurant in Taiwan and you can't read the menu because you can't read Chinese, and you're vegetarian. You can snap a picture of the menu with Linqapp and ask users, 'is there any vegetarian choice here on the menu?' After you submit your question all the native Chinese speakers will get a notification with the picture and question. Native Chinese speakers who assist right away can record some audio and you'll then receive the answer directly on your phone.
"Linqapp is for situations where Google Translate won't be able to help," says founder Sebastian Ang. "Linqapp is about assistance. Live language assistance."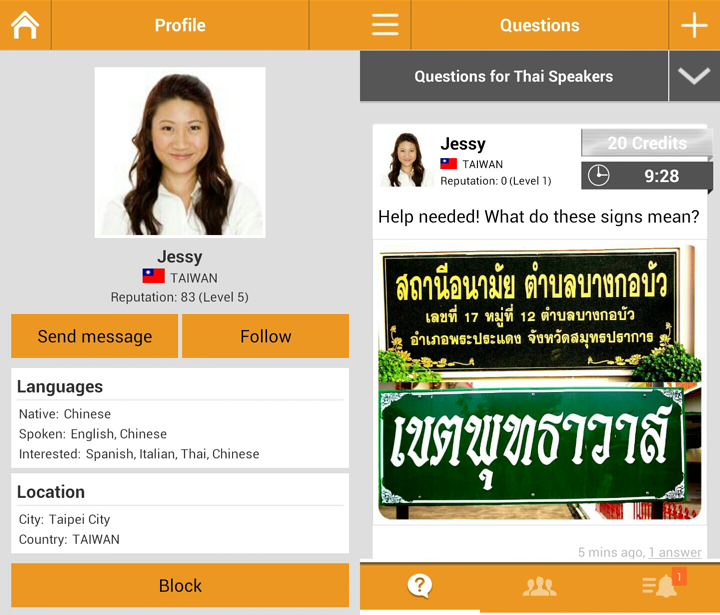 The community-driven vibe works as a partial incentive encouraging users to help out fellow language learners, but to further drive engagement, Ang and his team have added a credit system with points and a leaderboard.
Upon registration users are given 50 free credits. Asking a question via text is free, but attaching a picture or audio recording costs 10 credits. Users who answer questions can then earn credits, and the sooner they answer, the more credits they can pick up.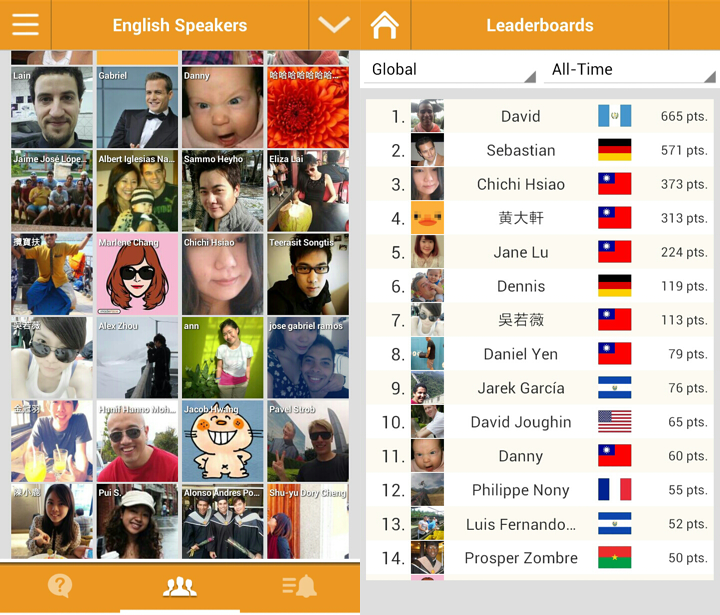 Ang and his team earned local media attention in Taiwan earlier this summer with a Facebook campaign that documented Ang and co-founder David Vega's marathon-length runs throughout the island. A photo from the campaign earned one million likes on Facebook, and Ang hopes this support will transfer over into app downloads.
At the moment, his team is focused on building a thriving community, and are operating on a bootstrapped budget. However, they have tentative plans for monetization as the app gains momentum. Right now Linqapp offers a premium-membership tier that includes an unlimited amount of credits, but the team envisions paid services such as document translations and live voice connections down the road.
"In the future what we want to do in the future is give bilingual people a chance to monetize their language skills. For example, I could easily do translations from English to German, but I don't use that skill at all at the moment. It's a totally unused skill that I have that's not monetized. So we want to empower people to monetize this skill by doing live language assistance."
Linqapp is free for download in the Google Play store.
*In conjunction with its launch today, the Linqapp team is offering 100 free premium memberships to TIA readers. Upon downloading the app, simply download the app and enter the promo code TECHINASIA. TIA has received no compensation for this promotion, monetary or otherwise.
(Editing by Terence Lee and An-Minh Do)