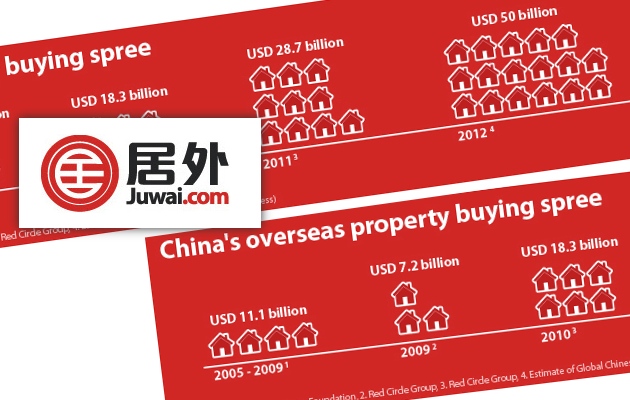 "Mainland Chinese property buyers spent US$28.7 billion on residential property around the world in 2011, generating over $900 million in commission for professional property sellers." So says the blurb on the website of Juwai.com, which lists international property for Chinese buyers. And that's both the enticement for its advertisers as well as an indication of how the startup could be sitting on a goldmine, as Chinese investors look set to nearly double that global property buying spree to a forecasted $50 billion by the end of 2012.
Juwai – which means "home overseas" – claims it is the number one property portal for Chinese who are searching for international property. The consumer-side of its website is in Chinese, featuring house and condo listings from 33 nations; while the client-side is in English, allowing agents to load-up their listings with basic property details, a photo, and a position on the map (pictured below right). After a bit of translating on the part of Juwai, prospective Chinese buyers can then browse the houses and call a toll-free number or send an SMS to move things forward from there.
Overseas property has become very attractive in China for a number of reasons: weaker foreign currencies make them cheaper recently; it's one of few overseas investment opportunities available to Chinese; revenue from renting out; or as a home for a child who'd study overseas; as a safety net in case China becomes unstable; a future retirement home outside of China's polluted cities; and many more factors.
Juwai claims that, for advertisers, it can give much greater exposure for their property for a fraction of the price of a magazine ad spread, or attendence at a propery exhibition – another growing phenomenon in the country recently as real estate companies market to mainland Chinese buyers. The website is headquarted in Hong Kong, with two bases in Guangdong, southern China, as well. The same is true of rival startup sites Arisingland.com and Propgoluxury.com.
Real estate is a huge deal on the Chinese web, with major web companies like Baidu (NASDAQ:BIDU) and Sina (NASDAQ:SINA) seeing their property portals as key traffic drivers. But China's Soufun.com (NYSE:SFUN) has made the biggest killing in this area with its ad-strewn site dedicated to apartments and villas in every city in China. And although Soufun is one of China's hottest tech stocks and the country's seventh-largest ad platform, it has not adapted to the trend in overseas house buying that really took off in 2009 when lower overseas house prices coincided with confidence that China was going to avoid the worst of the global economic downturn.
Juwai, however, is riding the trend, and is a Chinese startup to watch seriously this year.
[Spotted via 17startup – article in Chinese]