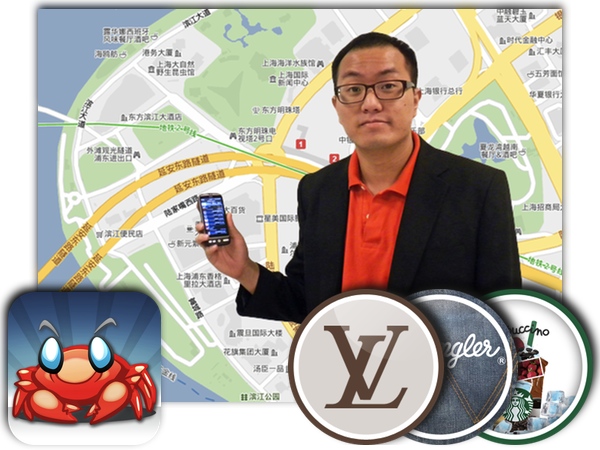 Jiepang.com launched in May of 2010, and within a month was already gaining traction, as quite a number of China's smartphone-toting youngsters jumped at the chance to 'check-in' and 'shout-out' – sharing their offline activities (the shops, bars, and restaurants that they're at) with their online buddies. (See my review of Jiepang and its apps).
A few days ago, Jiepang's CEO and founder, David Liu (pictured, above), took some time to talk with me over the phone from Beijing HQ, to talk about their users' needs, brand tie-ups, testing out NFC, and working with China's tech giant, Tencent.
"We're all about offline"
David Liu, originally from Taiwan, moved to mainland China in 2009, and connected with some Beijing friends that he knew from Taipei or Silicon Valley, to work on a new project. When Jiepang took off just a few months after its launch, he and co-founder Yuan Cheng decided, in David's words, "it was time to focus", and so the location-based-service (LBS) and social-network got moving, and made a bunch of mobile apps for their service. A short time later, and the inevitable media moniker 'China's Foursquare' meant that Jiepang was getting some global attention, too.
David set out, with Jiepang, to make "a utility for your offline life … to say 'I've arrived!' at a place", and "to allow people to share that". It was being done already, sort of, on Kaixin001.com or RenRen.com – but, David notes, "sharing [your location] wasn't fun before. On Kaixin you had to type it all out. So we wanted to help people check in faster, with no typing."
After first hitting on the LBS idea, David and his team did their homework – "I feel China's young people are more open and transparent now. They're growing up with social-networking. So they're ready to share where they are. In the beginning, we held a focus group of 30 to 40 people, and 80% of them said, 'Yes, we're sharing our location already on Kaixin'." So, the course was decided, and the project was set to be China's first – and biggest – LBS. David points out, "We say 'We're all about offline', because we're not forcing people to do different things – we're just helping you to show what you're doing normally, and we want to make it more fun."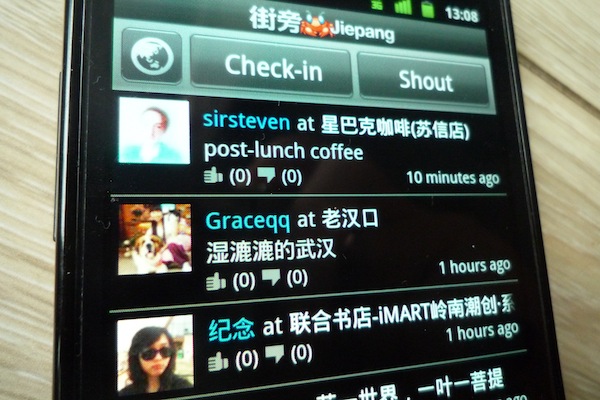 Connecting Users with Brands. And celebrities…
Being based in Beijing, it's not too much of a surprise that most of Jiepang's users are in mainland China: 95 to 98% of them, in fact, with most of the rest in Hong Kong, Taiwan or Macau (ie: the Greater China area). So, how are users engaging with Jiepang itself? David Liu says, "Our user-base is very mobile. The iPhone and Android apps make up just over half of users' usage. And then a hardcore segment of users will use the website too."
That's quite impressive to see so many people using the hottest smartphones. Little wonder that brands – from Wrangler to Louis Vuitton, IKEA to Starbucks – are keen to get into the lives of these users via their Jiepang check-ins, and perhaps even persuade people to come especially into their store thanks to a Jiepang promo. "We've partnered with over 300 brands," says David, "and right now we're proud to be working with Burberry and Louis Vuitton, and even have special pages up on Jiepang [see the LV page, bottom] for the special occasions, which are Burberry's fashion show and LV's exhibition in Beijing.
What do users, and brands, get from all this, I ask? "For brands," says David, "it's to extend their personalities; and for users it's to get a virtual badge [see the LV, Wrangler, and Starbucks badges in the image, top], maybe it's a limited-edition badge. It's not really about material benefit – it's exciting to collect and show."
A new area for Jiepang is to connect users with celebrities, and by extension whatever brands they're promoting. It's something that Sina and Tencent Weibo, too, have done so well since inception (better than Twitter has, for sure) – getting people to engage with specific brands or celebrities that interest them. "At the moment," says David, "we're experimenting with celebrities – partnering with celebrity's venues, such as their own stores, campaigns or events. For example, Jay Chou [Taiwanese pop star] has a fashion shop and an Italian restaurant in Taipei, and they're really popular check-ins."
As for getting China's hottest stars to share their check-ins on Jiepang, David concedes that probably won't happen – "Celebrities won't share their locations, I guess".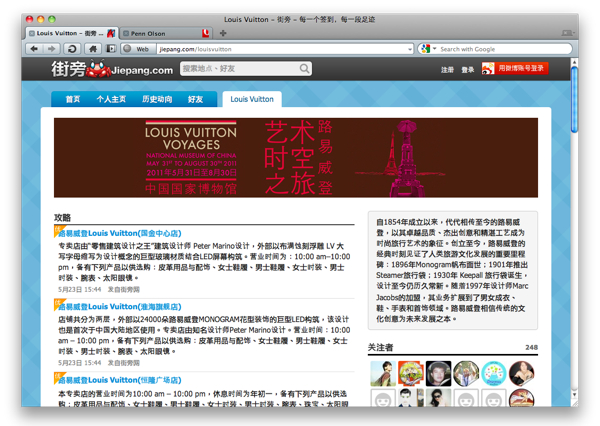 NFC & global plans
Like many of China's top social sites, Jiepang works around the world – David himself checked into various places in Paris over the weekend for the China Connect conference, where Jiepang was talking to numerous French brands which are keen to use social media in China – but is generally confined to China. Any plans to change that?
"Our roadmap is for Greater China," says David, "but we can't rule expansion out." So, where's the roadmap heading? "We've spread across cities in China as they're relevant to our users … and serve users city-by-city, and make links between cities. We've branched out into Hong Kong and Taiwan, which are important, because a lot of celebrities that are relevant to the mainland come from those places – that's why we have offices there."
NFC (aka: Near-Field Communications) is an exciting technology, which looks set to allow payments – or check-ins – with a simple swipe of your (NFC-enabled) phone. Jiepang is pushing hard in testing this, rolling out check-in tests before even Foursquare was trialling it at Google I/O last month, and is now heading towards a second-round of real-life NFC tests…
"Our first tests were warm-up exercises," explains David, "where we worked with 5 bars or cafés. We want to make it natural, and easy. For our second trial, it'll be a bit bigger, but we can't share any info yet. It's still at an early stage."
I guess NFC hardware is in short supply right now. And China needs to see both the next iPhone, and future HTCs to be rocking NFC chips for this to take off.
Any other new features for the site? "It's not the right time to add features," David concedes, "and instead we're opening up the API, and looking at areas where we can improve, and give more relevant info, like if a friend is in the same area as you at the same time, then that should be a notification."
David and Goliath
Lastly, I was keen to know what might threaten Jiepang's position – who are the Goliaths imperially stomping down the road? How about group shopping websites, I proffered to David, such as Dianping.com, could that site hurt Jiepang, or perhaps the whole group-shopping horde could crush the LBS check-ins?
"Group buying sites and LBS are very different to each other," David says, "and they're even complementary. They can both help merchants to build a community with users. Also, Jiepang isn't focused on discounts at all."
Tencent, then? I put forward to David the image of the Tencent 'steamroller' that copies and crushes… David demurs, "Tencent's doing a great job with its Open API and platform – we'll be talking about that in Paris at the weekend, in fact."
He continues: "We're partnering now with Tencent to link your Tencent/QQ account to Jiepang. The size of the company doesn't hinder our working together. Of course, it's very likely major companies will move into new areas, but it's still great to work with them."
Many thanks to David Liu for talking the time to chat. Readers can follow me – but not too literally, please – on Jiepang, as SirSteven, which is also my username for Twitter and Sina Weibo.