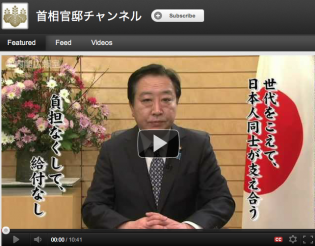 The Prime Minister of Japan, Yoshihiko Noda, is apparently having difficulties drawing the public's attention over on YouTube. The most recent posting to the Prime Minister's Office channel last week drew less than 300 views in its first four days, according to RocketNews citing a 2channel discussion. It's currently at about 7900 views.
It should be noted that this doesn't appear to especially be Mr. Noda's fault, as the channel – which previously presented videos for his predecessors Naoto Kan and Yukio Hatoyama – only has 831 subscribers since it started in 2008, and 368,176 views in total.
I won't pretend to have much knowledge of Japanese politics here, so I don't have much insight as to why the general public isn't tuning in as they do for channels like the White House in the US (200,000+ subscribers, and 76 million views). But my guess is that Japan's revolving door of Prime Minister's (six since 2006, see the timeline [1] below) might have at least something to do with it.

In any case, I do hope that the Prime Minister's office isn't discouraged by its reception online. It's good that they're trying to reach out to the public via online channels. The office also has a presence on Twitter (@kantei, 26,000+ followers [2]) as well as nearly 10,000 likes on its English Facebook page which was established just after the earthquake in March of 2011.
---
I put together an interactive version of this timeline, but it usually throws a browser error, so I'm not including it in this post. Still, if you'd like to try it out, you can play with it here. It goes all the way back to 1841, citing data from Wikipedia.  ↩

Note that the Prime Minister's Office has a very large audience of 372,000+ followers for its earthquake reports @Kantei_Saigai. It also has over 57,000 followers on its English Twitter account, @JPN_PMO.  ↩