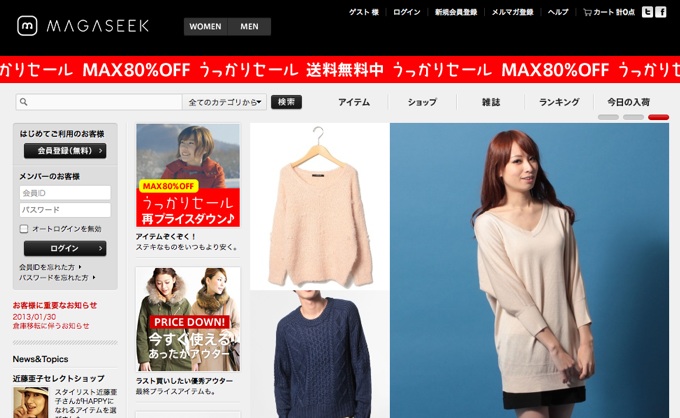 Japanese telco NTT Docomo (NYSE:DCM) has been diversifying a lot recently, notably launching online shopping through its 'dmarket' content portal back in December. Today Docomo has put forward an offer to acquire the fashion-oriented e-commerce site MagaSeek (TYO:3060) with a view to using the store as a way of expanding its dshopping service.
In the friendly takeover offer, Docomo is seeking to acquire "a minimum 8,829 shares, or approximately 41.67 percent of MagaSeek's total shares," which requires approval from MagaSeek.com's parent company Itochu Corporation. In theory, that stake would cost Docomo over US$13 million at the tender offer of 135,000 yen per share, which is above the store's current stock trading price of 100,000 yen. Itochu would retain at least a quarter of MagaSeek to remain a major shareholder.
For Docomo's fledgling e-commerce efforts, the acquisition would be a big boost to its dshopping store, which currently only sells foodstuffs. That came about thanks to taking a controlling stake in Radishbo-ya last year, Japan's top home-delivery service for organic vegetables and preservative-free foods. Now dmarket sells 100,000 different food items. By 2015, Docomo aims for e-commerce to contribute seven percent of its revenues.
Docomo has over 60 million mobile subscribers, so MagaSeek and its parent company would also benefit from this new mobile commerce channel.
MagaSeek was founded in 2003 and brought in a net profit of $1.52 million in Q2 2012. Docomo's 'deal or no deal' offer is on the table until March 14th, 2013.