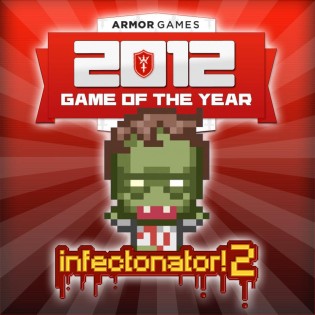 Indonesian made game Infectonator 2 won online gaming platform Armor Games' Game of the Year award on Saturday, beating Australian-made The Last Stand – Dead Zone in the final head-to-head contest. Interestingly, the two best games were both about zombie apocalypses.
The competition was held from December 26th to January 3rd, and users voted for the best game from each category. For Game of the Year, the nominees were paired up with other nominees in which users choose the best out of the two games in a tournament head-to-head style (pictured below).
Infectonator 2 was built by Indonesian game developers Toge Productions. CEO Kris Antoni said that they too were surprised about this achievement as they had to compete with many other high quality games worldwide. He believes that one the factors that helped them clinch the title was the fact that Infectonator had a wide audience, as both males and females enjoy the game. Another factor is Infectonator's unique and addictive gameplay which sets it apart from the rest.
Kris also shared that to date, the Infectonator mobile version has been downloaded more than 260,000 times on the Android and iOS platforms. Its web version had been played more than seven million times from numerous online game portals worldwide. The team plans to keep building more unique and creative games, and hopefully win more awards in the process.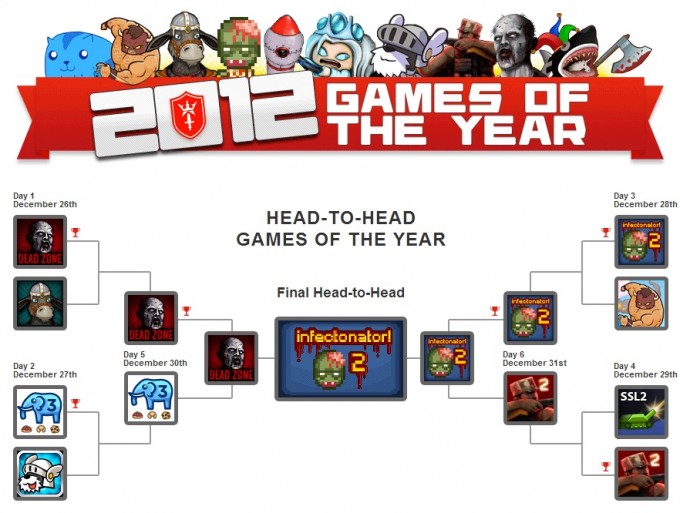 Infectonator 2 also won best game in the Action category, and its mobile version was runner-up in the Mobile section. Toge Productions' other game, Relic of War, came third in the Strategy category.
Another Indonesian-made game, Evilgeddon Spooky Max, was nominated in the Shooting category at the competition, but unfortunatey didn't win.
In celebration of the achievement, Toge Productions is making its Infectonator mobile game free for a limited time. You can download it on Google Play or over on the app store. You can also play the Flash-based web version here.
(Via Trenologi)