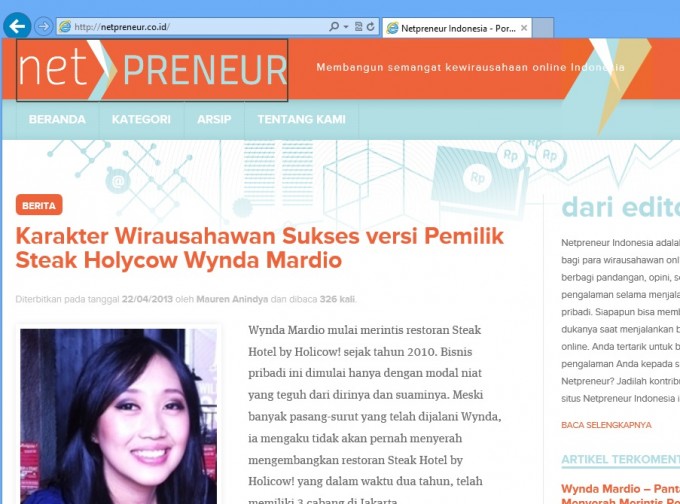 Today Netpreneur.co.id, a blog dedicated to advising people how to run a business, is officially launched today in Indonesia. The site is developed by Achmad Zaky, the founder of e-commerce platform Bukalapak, who tells us that Netpreneur is a standalone project outside Bukalapak that acts quite like Bukalapak's corporate social responsibility (CSR) project. Netpreneur is built to help people get entreprenurial knowledge and information, as well as inspire them to become an entrepreneur.
Achmad explains that Netpreneur has different teams from Bukalapak. Furthermore, as Netpreneur has this vision to help grow the Indonesian entrepreneurial ecosystem, he is open to discuss any topics that crop up on the site. That includes talking about success stories of people using Bukalapak's competitors, such as Kaskus and Tokopedia.
You might remember a similar Indonesian site full of business advice called StartupBisnis. Its founder Rhein Mahatma gave me an update about the company, saying that StartupBisnis now gets around 2,000 daily visitors. The startup has also launched its job posting feature as well as holding some offline events like workshops and seminars with the focus on discussing the e-commerce industry. Achmad said that Netpreneur also hopes to hold offline events to help educate and engage the Indonesian audience.
Entrepreneurship brewing up in Indonesia
There were three other speakers during the launch event to talk and encourage people to become entrepreneurs. One of the things discussed there was about the shift of mindset that Indonesian people are now more proud to be running their own business rather than working for somebody else. There is also this phenomenon called the 'amphibi revolution' where quite a few people in the country are starting to work and run a private business at the same time.
Indonesia is indeed a great market to be in right now. And having more information sources and resources about running businesses can help people take action on that opportunity. For those who are looking to open their respective businesses, you can give Netpreneur a look.
Bukalapak's progress
During today's event, Achmad also shared with me some numbers about Bukalapak. The e-commerce site now has about 100,000 daily visitors, with each of them averaging 10 page-views. This means that there are around one million page-views clicked on Bukalapak every day. At the moment Bukalapak sits at 151st position in the country's web ranking according to Alexa. The startup itself is invested in by GREE Ventures and Batavia Incubator.
As for Bukalapak's other project, which is muslim women's e-store HijUp, Achmad revealed that the startup has now become an official content partner for YouTube and now boasts over nine million views of the company's videos so far.