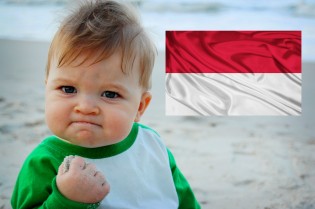 Indonesia is awesome. Its capital city of Jakarta is one of the biggest social media users in the world. And a McKinsey report believes that the country is on track to becoming the world's seventh biggest economy by 2030, placing it ahead of currently more developed countries like the UK and Germany.
Indonesia is also the third biggest democratic country, and it has held smooth presidential and parliamentary elections too. While many would prefer to make their living in a more developed country, maybe like the US or Australia, you should seriously consider building your business here in Indonesia.
That thought is echoed by many tech entrepreneurs, especially by those who earned their degrees abroad. I spoke with Adrian Li – an MBA from Stanford university – and Kevin Aluwi – an undergraduate from University of Southern California – about their reasons for betting on Indonesia, rather than western countries.
Here's what I got from them:
Indonesia to be a powerhouse by 2020
First, from the macroeconomic perspective, Indonesia is awesome. Both Adrian and Kevin stated that the country's economy has grown consistently about five to six percent in the last two decades. So Indonesia is a stable, growing country for any business to start from.
Kevin added that Indonesia's ample natural resources, which is the 27th biggest in the world in 2010, is another guarantee for such stability. Note that Indonesia is also one of the few countries which survived the recent global crisis without drama.
But what's most important is the large target customer base. According to a recent report from BCG Perspectives, Indonesia's middle-class and affluent consumers (MAC) – people who are about to begin to pump their spending in key segments like consumer durables and home goods – will grow by eight to nine million people every year. And by 2020, there will be roughly around 141 million MACs in the country. The same report argued "At that point, the island of Java alone will have more MACs than the entire population of Thailand, and Sumatra will have more than the populations of Malaysia and Singapore combined."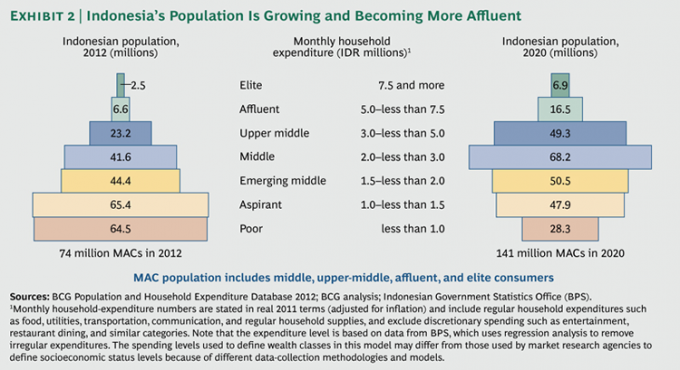 Interestingly, Indonesia's internet penetration will grow at a higher speed than the forecasted MACs growth. The latest report of Indonesia's Association of Internet Service Providers (APJII) said while the country has around 63 million internet users in 2012, the number will grow rapidly to 139 million users or fifty percent internet penetration by 2015. So tech companies won't have any problems reaching out to those MACs either.
Are they willing to spend? It's a resounding yes from Kevin. More than half of Indonesia's GDP comes from domestic consumption.
No significant competition yet
Second, Adrian believes that there are still a lot of open spaces in Indonesia, especially for tech companies. Here, it's nascent. He argued that the same thing cannot be said with the tech ecosystem in more developed countries like the US. Over there, you need to have a more advanced product and technology to survive, but you won't need to do that here because there aren't too many advanced rivals so far.
Western companies will have a huge advantage here and their educational and experiential background give them an edge on local startups. Ideosource's Andi Boediman echoed this, saying that the problem in the Indonesian startup ecosystem is its lack of quality startups.
Kevin believes that while a lot of people already know how huge Indonesia is going to get, only a few can really comprehend it and take action. He said that before they all do that, they should have already started something first and be a first mover. He cited the current Chinese tech giants as successful examples because they were first movers – such as Tencent which was founded back in 1998.
Let's go Indonesia
As far as the local startups' success stories go, Kevin believes that the only noteworthy mentions are the acquisition of Indonesian news site Detik and the investment in the country's largest forum Kaskus. I think Disdus being acquired by Groupon and Yahoo buying Koprol can also be part of them, but the rest are still insignificant in terms of the global tech world.
Indonesia is definitely a great bet for you to start a business.
I encourage you guys to read the BCG Perspectives' report in its entirety. It explains further about the country's consumption trends and channels to engage local consumers.