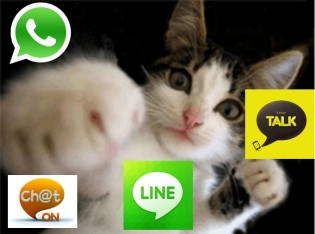 The fight is on! Back in December, there was a discussion event among Indonesian telcos about what they should do regarding so-called OTT (over the top) players choking their profits. OTT, by the way, is a term telcos use to refer to third-party products that uses telcos' infrastructure – apps like Line and KakaoTalk. It seems that the Indonesian telcos have made up their mind to beat these OTT players at their own game by brewing up a plan to build their own cross-platform messaging app called "Messaging Indonesia" together with the Indonesian Telecommunication Regulatory Authority (BRTI).
The big idea here is for Indonesians to use more local messaging apps which can save the local telcos more money as routing will happen inside the country. Local companies like handset manufacturers Nexian and Esia already have their own BBM-like services. Surely the telcos have more than enough capital to build their own messaging apps too.
Indotelko cited a BRTI representative yesterday saying that the challenge here for the telcos is to set aside their egos and cooperate with each other. So far, during the preliminary talk about this plan, the Indonesian telcos have agreed to work on this platform together. But a question that they need to answer is how they plan to build it together. Will they subcontract a smaller company to build it or take teams from each of their own companies? This can well be a management nightmare.
Enemy of my enemy is my friend
In the past, Indonesian operators were at war with each other by launching new telco tariffs and packages to beat the competition. But this time, they all share the same problem.
The latest report from Arbitron Mobile found that Indonesians were using a lot of VoIP and chat apps last month, beating even the usage rate from countries like the UK, the US, Germany, France, and even China. What messaging apps do Indonesians use most? It's Japan-based Line. While there isn't a deadline yet for the telcos to speed things up, it is clear that this has become one of the biggest issues among the Indonesian operators.
If Messaging Indonesia does come to fruition, and if it offers cheaper messaging services compared to the current chatting package deals, like Telkomsel's Chat and Share, then it can definitely be a serious threat to foreign messaging apps' plans for dominance in Indonesia. On the other hand, apps like Line, WeChat, and KakaoTalk have become more than just chatting apps and also feature things like social gaming integration, animated emoticons, and voice/video calling. So it'll be hard for telcos to create appealing and cool features like those.
Indonesian operators are not the only ones thinking about this plan. Singapore's StarHub and SingTel are also planning to build their own messaging apps. Starhub's app is planned to arrive in the second half of this year while SingTel should be launching its app in the coming months. Chinese telco China Mobile has actually built its own messaging app years ago even before WhatsApp called Fetion. But it now seems to be running behind the newer and more innovative apps like WeChat.
It's not totally unheard of for a local player to take on international entrances, local Vietnamese Zalo, for example, has taken on the likes of WeChat and Line in Vietnam to rise to the top of the Apple Appstore. It'll be exciting to see what kind of messaging apps the multi-billion dollar telcos can come up with in the near future. One thing is certain though – competition sparks better quality and maybe even lower prices.
(Source: Indotelko via DailySocial)