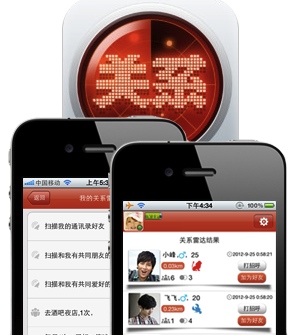 "Guanxi" is the Chinese word for a relationship – and also the broader concept of the benefits of knowing someone, particularly when doing business. That explains the name of the business networking app Guanxi.me, which today received series A funding led by SingTel Innov8. Also participating in the round was Timothy Draper of Draper and Associates. The sum has not been revealed.
Guanxi.me has location-based apps for iPhone and Android that allow users to connect with fellow professionals nearby and then chat with them. It's sort of like Momo or Skout, except that it's oriented towards making biz connections, not dating. Guanxi.me is a spin-off from the Shanghai-based mobile search startup mInfo.
SingTel Innov8 is the investment arm of Singapore's giant telco Singtel. The last major round we saw from SingTel Innov8 in the region was when it pumped up to $5 million into phone-maker G-Mobi.
In today's announcement, the Guanxi team says it'll use the funds to "expand its team, build up a carrier-grade operating platform, grow its user-base […] and raise awareness for the service beyond China."
William Bao Bean, the MD at SingTel Innov8, added:
We are excited about Guanxi's promise of a more intelligent and automated mobile social networking user experience. We look forward to supporting Guanxi's geographic expansion of their innovative solution into the various markets the SingTel Group operates in.