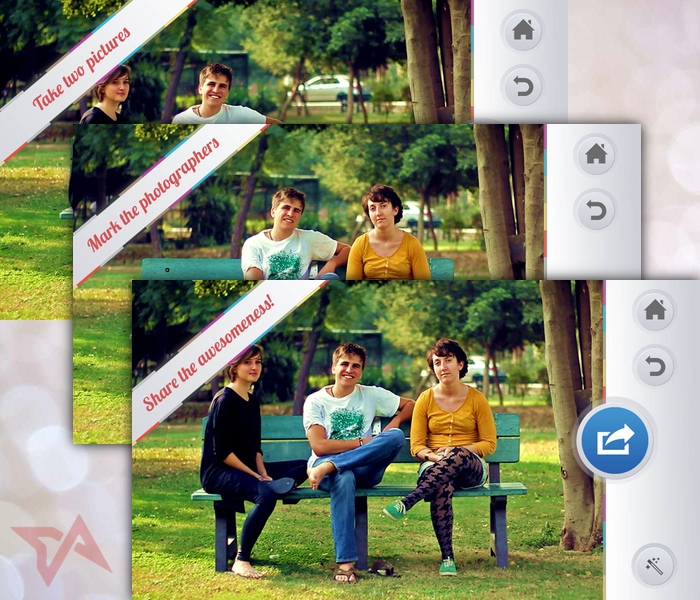 A Lahore-based startup is prepping the launch of an amazing iPhone app that puts the photographer – usually the one stuck behind the lens – back in the picture. Called Groopic, the makers describe it as a "new genre of camera-based application that uses augmented reality" to improve photos in a very natural way.
With Groopic, you take one photo of someone or a group of people, and then another person takes control of the camera to take another photo of the same scene. As the demo video below shows, the app will stitch together the people in the images so that the original snapper will be in the final photo.
Co-founder and CEO Ali Rehan explains to us that the Groopic team has a passion for – and lots of experience with – computer vision, something normally applied to robotics or autonomous vehicles. They want to turn that expertise into augmented reality-equipped apps. Ali adds:
We have a number of proof of concepts on computers and we are porting our state-of-the-art technology to smartphones. Right now, we have some really interesting 'natural user interface' demos on cellphones.
Groopic for Android, we're told, is in the final stages and will be released soon as well as he iPhone variant.
A busy summer for the Groopic team
The Groopic team is set for a busy summer. Along with the upcoming app, Groopic is one of two Pakistani startups who've won a slot in the Google Entrepreneurs-backed Blackbox Connect program. So the startup team will be in Silicon Valley from July 15 to 26. Ali says it'll be a great chance to network "with like-minded people" and to catch the eye of angel investors and venture capitalists – something not really offered by Pakistan's fledgling startup ecosystem.
Under the company name Eyedeus Labs, the Groopic team was one of the ten young companies to be the first batch of incubatees at Plan9, the Punjab government's incubator. The startup is made up of five people.
Groopic will be a paid app. (Update 2: It's now live in the App Store for $1.99). Hit the homepage to sign up for updates of its launch. (Update: The app briefly appeared in the Pakistan version of the App Store, but it hasn't yet launched. Stay tuned).
(Editing by Anh-Minh Do)