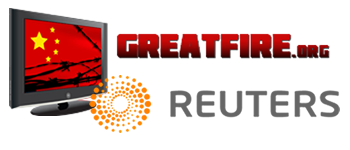 Last Friday, we reported that the Chinese-language sites for the Wall Street Journal (cn.wsj.com) and Reuters (cn.reuters.com) were censored by the Chinese government. In response, anti-censorship activist website GreatFire.org, which monitors the blocked status of websites in China, has launched a mirror site of Reuters' Chinese site, reports TheNextWeb.
The site is hosted on an Amazon Web Services server, and we have confirmed it is accessible from behind the Great Firewall as of press time.
Obviously, only avid Reuters readers will go through the trouble of finding the site, and links to the original site still won't work. Considering this, the mirror site seems more symbolic than practical. The English version is still accessible, and bypassing the firewall via VPN is also a common alternative.
GreatFire is also responsible for FreeWeibo.com, which allows users to see censored posts from the Twitter-like Sina Weibo.
So why aren't these sites censored? TheNextWeb explains:
To create the mirror sites, GreatFire used a subpath of Amazon and Google's domains that support HTTPS access. This essentially means that China would need to block both hosting domains run by Google and Amazon to snuff out access to the mirror sites.
Because so many websites in China rely on those two domains, GreatFire is hedging its bets that the Chinese government won't dare block them.
(Source: TheNextWeb)
(Editing by Terence Lee)