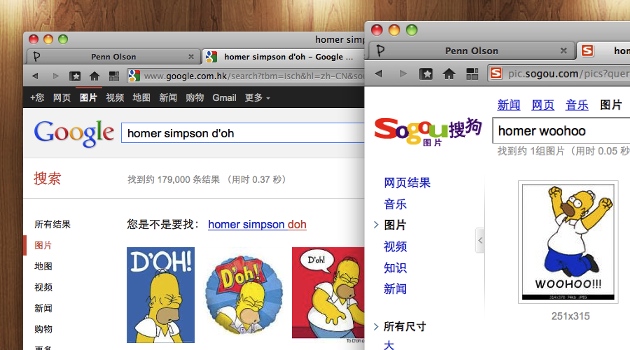 New data from web analytics company CNZZ suggests that Google (NASQAQ:GOOG) is now in third place in China in terms of search engine traffic – pushed down by the rise of Sohu's (NASDAQ:SOHU) Sogou.com.
But a note of caution: analytical methods can vary greatly, and CNZZ's numbers have always been greater for the smaller search engine rivals than the stats from, say, Enfodesk, that we've used in the past. Here's the most recent data for November, in terms of traffic: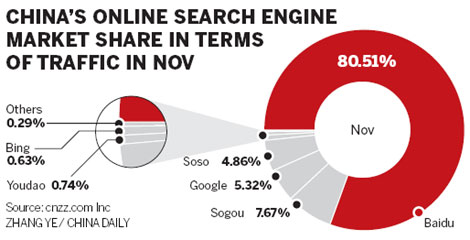 Nonetheless, if anyone was going to steal Google's tenuous second position in China, it was clearly going to be Sohu's Sogou, which has long been the strongest of the also-rans who are ultimately aiming at taking market share – and ad revenue – from Baidu (NASDAQ:BIDU). It is perhaps helped by its popular web browser, Sogou Browser, which of course defaults to using its own search engine. Indeed, earlier this summer Sohu's chief executive, Wang Xiaochuan, said in a speech that "Our real aim is to overtake Google in China within a year." Mission accomplished, if CNZZ's data can be backed up by some other sources too.
Looking at the data for last month compared with November 2010, we see the same eight competitors in action, with Tencent's (HKG:0700) Soso search and Netease's (NASDAQ:NTES) Youdao perennially stuck in fourth and fifth places, respectively: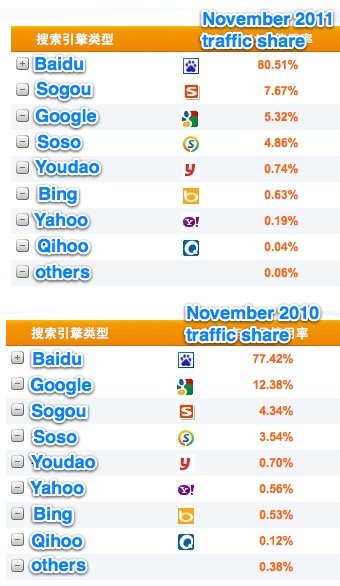 The only major changes we see are Bing going up to sixth, and Sogou's step up to second.
---
Holding On to Revenue
---
Google declined to comment on the latest stats when contacted by the China Daily. But the American search giant can take solace in still being a strong second in terms of revenue. Analysis International says that Google still brings in 17.2 percent of revenue in this industry in China, largely due to its advertising network. Forbes' Eric Jackson pointed out last week that Google's China business still rakes in US$640 million per year. Though in the broader Chinese market, that's actually in third place behind e-commerce company Alibaba Group.
Sohu's Sogou, in contrast, takes only a 2.2 percent-sized slice of the ad revenue pie in the search market.
On a final note, the playing field is far from level here, with ongoing Great Firewall interference on all Google's search sites – not just Google.com.hk, which it runs out of Hong Kong – causing the search homepages to be slow or inaccessible about half the time I try to use them from within mainland China.
[Sources: CNZZ, via China Daily]