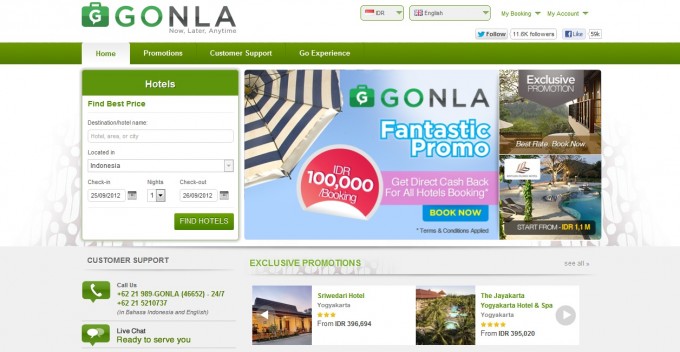 Indonesian online travel agency GONLA.com officially launched today. The name GONLA simply means 'GO Now, Later, Anytime.' The company seems to focus its attention on attracting foreign tourists, which accounts for 80 percent of the current travel market, according to GONLA. In addition to local agencies, the company hopes to beat foreign travel agencies in Thailand and the USA.
The GONLA website looks sharp, and users can also read about Indonesian tourism on its "Go Experience" page, available in both English and Indonesian. The travel agency company already has many likes and followers on its social pages.
GONLA believes it offers four advantages in the booming online travel business:
GONLA guarantees to offer the best price out of its hotel list, and will refund any price difference if customers are able to find cheaper ones.
The company claims to have the biggest hotel network with more than 2,000 hotel partners from all around Indonesia.
GONLA's online customer service, available in both Indonesian and English, is said to be open 24/7.
It offers a wide range of payment alternatives, including credit cards, bank transfers, Paypal, and cash at GONLA offices. The company also provides flight and car rental reservations at its offices.
During its promotional phase, which runs until September 30, GONLA is offering a further discount of as much as IDR 50,000 ($5.20) and IDR 100,000 ($10.50) for every online hotel reservation made.
GONLA was incubated under Nusantara Ventures and is a subsidiary of Indonesian media group VIVA. GONLA is another addition to the already hot Indonesian travel industry alongside players such as Flamingo, Valadoo, and Tiket, to name just a few.