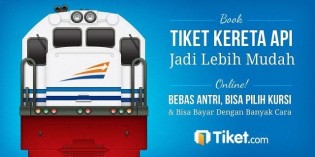 Tiket, a startup that serves as a ticket booking platform for almost everything, has added yet another offering: train ticket booking. Launched today, this follows the official site for train ticket booking by the State Owned Enterprise PT Kereta Api Indonesia. At the same time, Tiket is preparing to open up its API to developers and it will be ready in a few months.
Natali Ardianto, co-founder and CTO of Tiket, explains more about this new feature:
Tiket.com is trying to disrupt Indonesian e-commerce by being the first partner to sell train tickets online. We're trying to help the Indonesian e-commerce industry, just like MakeMyTrip improved the India e-commerce industry. When India put train booking online, all the middle/lower class were forced to use the system. Thus because of this, Indian e-commerce industry soared because middle/lower class people experienced e-commerce for the first time, were happy with the result and continued to try other e-commerce services. We provide special promos, air conditioned economy, business and executive class, and advanced 90 days booking.
Although it is available on the official site too, Tiket provides a slicker and simpler user interface that will help users in the buying process. You can redeem tickets using an SMS code and a copy of your ID card (the official site needs a printed PDF). You can also select from multiple payment channels including bank transfer, BCA Klikpay, KlikBCA, and credit card. The company also claimed that it is the only partner which lets you choose your seats, and that's certainly convenient. There's a mobile version and mobile apps also ready through Nokia Asha.
Tiket's API that is currently in private beta, and according to Natali, they are currently working with 28 developers from different platforms, looking for feedback on how to improve it. The commission structure is really attractive for developers, with payments made monthly with a minimum withdrawal of IDR 200.000 (US$ 22). So far, there are quite a few partners on the list already and some apps in the works on all platforms. The public launch is in September, we're happy to say that Tiket will be one of the API providers for Startup Asia Bandung 2012 Hackathon.
The train tickets booking feature has really strengthened Tiket as a "One Stop Travel and Entertainment Gateway," after it launched with hotel rooms, concert and event tickets, flights, and movies booking. And with the API launch, I really love how Tiket has turned itself into a platform for people to build on top of its services, especially when the Indonesian travel startups are beginning to spring up more frequently.