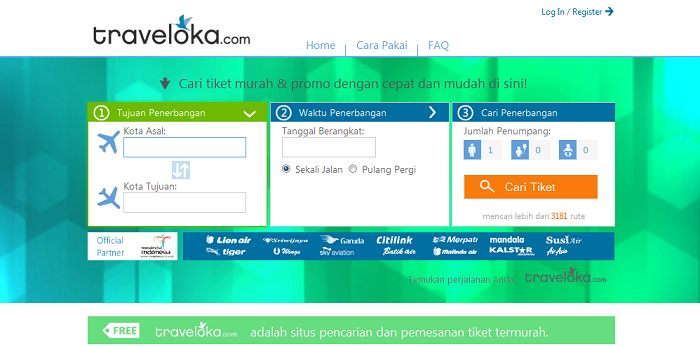 Indonesian flight search engine Traveloka 1 has made a very interesting announcement today: the company says it raised series A funding in mid-August from Global Founders Capital (GFC), a VC firm co-founded by Rocket Internet's Samwer brothers. This makes Traveloka the very first Asia startup portfolio of the high profile VC, which launched in March. Traveloka CEO Ferry Unardi says that the online travel industry is on the rise now, and thus GFC happily funded Traveloka without giving any restrictions so that the company can grow as it wishes.
This new collaboration helped Traveloka improve its business strategy and develop its execution. Ferry tells us:
The team behind GFC has a proven track record in running and scaling successful businesses around the globe. They complement our strengths in engineering and product development well and we are confident that this partnership will help make Traveloka.com the online travel leader in Indonesia.
The team plans to use the money "to accelerate growth, build out our team further, improve existing services, and add new ones since we always want to be make travel simpler and more attractive." Ferry plans to focus on revamping the back-end system of Traveloka so that it can offer a smooth, seamless experience to its users. With regards to other plans, he adds:
We just want to make the service more attractive, easier to use, and more accessible to more people across the country. In order to do that, we will accelerate our growth, build out our team further, improve existing service, and add new ones.
This is definitely a huge coup for Traveloka, which was founded less than a year ago. It started as an airline ticket search engine, but now processes ticket bookings too. It now handles as many as 200,000 flight searches per day, and according to ComScore, it has become Indonesia's number one flight search and booking service company (outside of the official airline websites).
Last November the travel search engine company raised seed funding from East Ventures, just one month after its launch.
(In collaboration with my colleague, Enricko Lukman)
(Editing by Charlie Custer)
---
Full disclosure: East Ventures invests in both Traveloka and Tech in Asia, for more information you can check our ethics page.