Developers who have founded startups and ventured into independent game development may find this dilemma familiar: when starting up, should you go with third-party game development, or dive into first-party? (That means deciding between developing your own game, or helping someone else, usually a big company, with the development of theirs.)
We invited industry veterans Phil Tran, from the Glassegg studio, as well as Luyen Ngo from Divmob, to give their takes on this at Games in Asia's first meetup in Ho Chi Minh City, Vietnam. A total of 174 participants attended the mini event, together with two studios, Cool Studio and Guava 7, who displayed their games at our adjoining boothathon exhibition.
Everyone was keen to find out more about first and third-party game development in Vietnam. The evening began with Tran's talk on third-party game development.
---
Tran, who has been working in the games industry since 1995, began his career with Morgan Interactive. The company was responsible, via its Vietnamese studio, for putting out the Jump Start series of educational video games (that I played the shit out of, as a child).
This was during an era where there was no internet. Can you hear the horror of that statement echoing? Tran used to have to carry suitcases of CDs back to the Morgan Interactive headquarters in the US.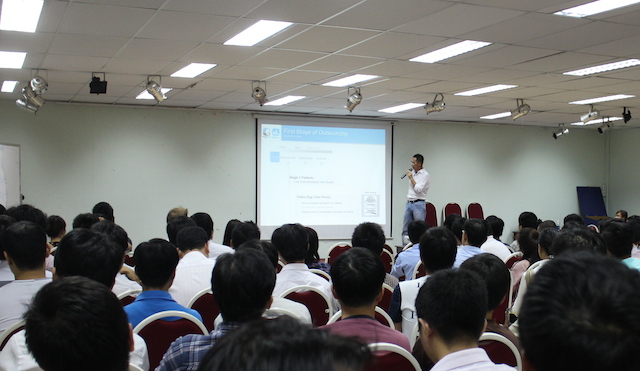 Later on, when Morgan Interactive folded, Tran founded his current development studio, Glassegg. Glassegg deals in the outsourcing of game development and art production, and has been an integral part of many big-name video games.
As of today, Glassegg's talents have contributed to games such as the Forza series, Battlefield 2, Dirt, Blur, Need for Speed: Most Wanted, and Need for Speed: Rivals. The company has also contributed concept and character art to a Bandai Namco game series called Butto Burst.
(See: Need for Speed: Rivals review: speed demons)
Apart from outsource work, Glassegg also has a publishing arm called Like.VN, with the games Daybreak Online, Te Thien, and Phap Su in its portfolio. It also recently launched a dating website called Oakclub, which comes in 14 different languages, but primarily targets Vietnam, Indonesia, and Thailand.
Glassegg now produces its own first-party mobile games, but Tran still has valuable lessons to share from his experiences. At the meetup, he spoke about the three stages of outsourcing.
Stage 1: work for hire
This is the first stage of outsourcing, where you're simply under the employ of the hiring company. Low cost is prioritized over quality, and all processes and creative direction are assigned by the client. At this stage, outsourcing companies compete on price.
Stage 2: partnership
This is a point where your regular clients trust you. There is no more bargaining, and they know that you're going to deliver good work for a good price. Your relationship has gone from employer-employee to a strategic partnership.
Stage 3: innovate
At this stage, the entire project's value creation and innovation is outsourced. Your company is more like a consultant than an outsourced firm.
Tran also introduced the first-party games Glassegg has produced. Art of Darkness is a hidden object puzzle game, while Tap Pet Party is a children's game that allows you to build and play in your own garden party. He also introduced an as-yet-untitled, upcoming running game with mechas that will be out in the Christmas season of 2014.
(See: Line's Run Run Hero review: why being linear isn't all that bad)
How Glassegg created good products, Tran said, was largely due to the company's culture. Glassegg is open and friendly, and multicultural to boot. It has flexible working hours, and most importantly: it works as hard as it plays.
---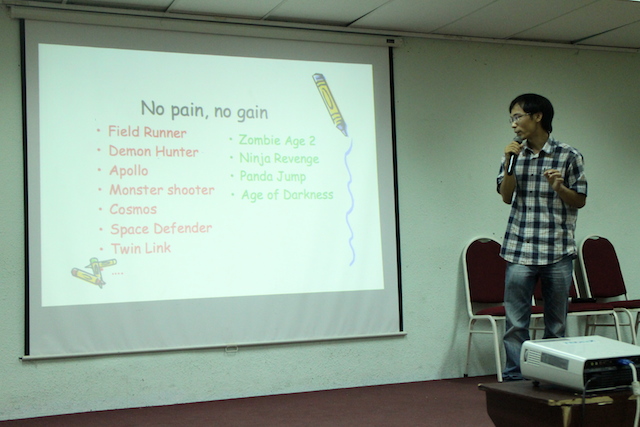 Luyen Ngo, CEO of Divmob, offered a different perspective at our Games in Asia Ho Chi Minh meetup. We'll be putting up a video of his presentation (in Vietnamese, subtitled in English) next week, but in the meantime, here are some quick appetizers about Divmob.
Unlike Glassegg, Divmob started out as a first-party developer. It worked on educational children's games until November 2012, when it put out its first first-party game: Field Runner. The game, unfortunately, was a flop.
However, Divmob went on to release nine more titles, four of which they consider successful. In total, Divmob's games have since garnered approximately 20 million downloads, and it has since moved on to even publishing games.
---
With close to 200 participants at our first meetup in Ho Chi Minh City, we're expecting to see even more of the gaming industry at the next!
Watch out for our video of the entire event, coming next week! In the meantime, have a look at snaps of the meetup: