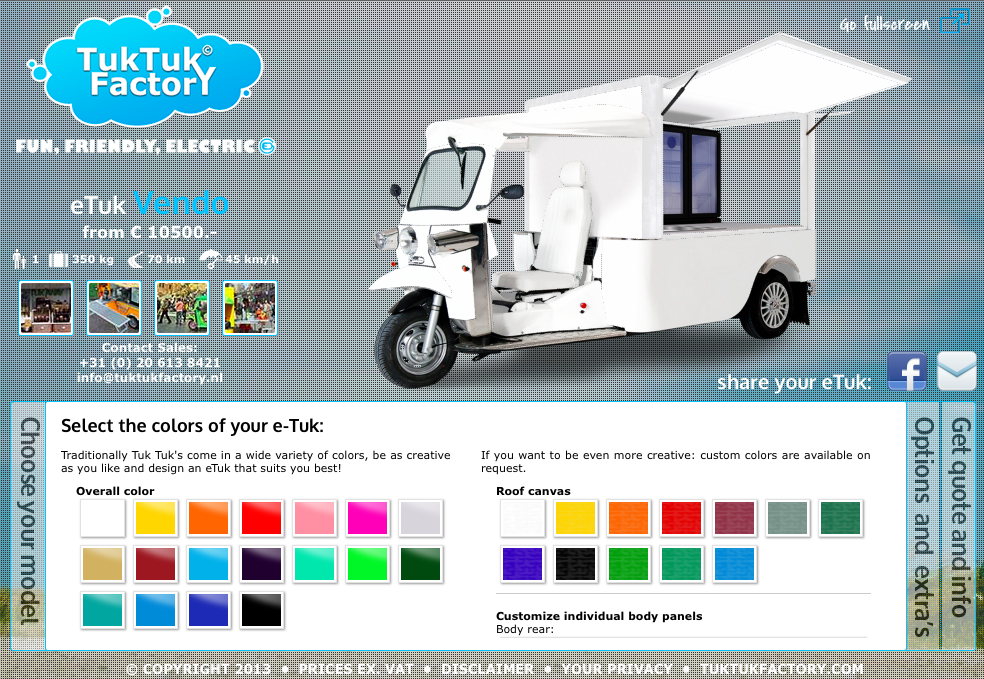 Tuk-tuks – sometimes called auto rickshaws – are almost symbolic of Thailand and Southeast Asia in general. In Thailand, tuk-tuks are a tourist attraction as much as a mode of transport. But if you've been to Bangkok, you'll know that these modified motorbikes create a lot of pollution. Luckily, there's a startup that aims to change that.
TukTuk Factory is a Thailand-based manufacturer of these three-wheel street rockets. Although it doesn't make anything as fancy as the tuk-tuk with GPS and uniformed drivers that we looked at last year, it produces something unqiue: one of the world's first fully electric, 100 percent zero-emission tuk-tuks.
Plug it in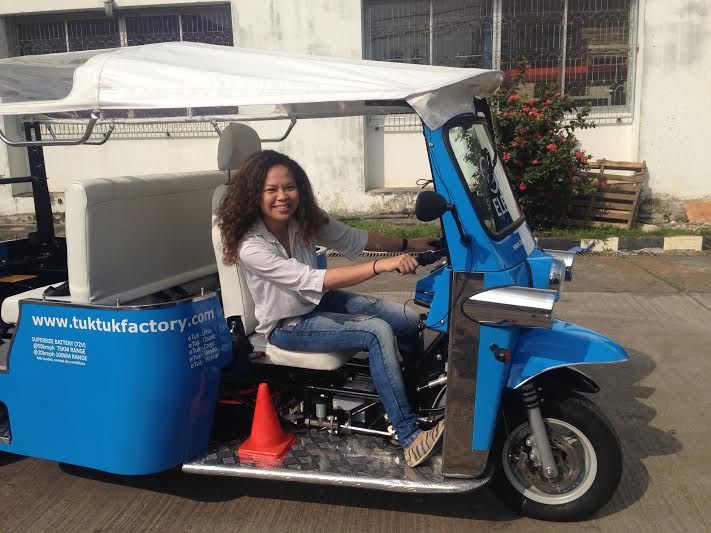 Although the company is based in Bangkok, it's started by a Dutchman, Dennis Harte, who has been living in Thailand for over three years. The electric tuk-tuks were actually his graduation project during his MSc in Industrial Design Engineering at Delft University of Technology in the Netherlands.
As part of the project, the team started by taking out the motor and fuel tanks in an auto rickshaw and then replacing them with the electric motor, a charging mechanism, and a battery. It took three engineers working on one tuk-tuk at that time, so at first, the project didn't seem like something that could turn into a viable "real-life" business. But later on, Harte decided to look for a new partner in Thailand and China to put the electric vehicle into production. That's when Tuk Tuk Factory became a reality. The model is badged the E-Tuk.
Now the startup produces all-electric auto rickshaws that are made to order. Customers can design their own vehicle using a special configuration site, choosing from various colors and styles. So far, the team has sold over 150 EV tuk-tuks to customers in many countries around the world, including Greenland.
Buzzing into Europe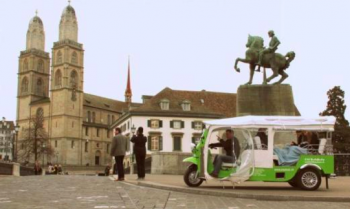 These tuk-tuks don't have to be used to tear through clogged up traffic on busy Southeast Asian streets. The team tells us that some are now used as golf carts at a resort, as props for weddings, and as vehicles in cities such as Berlin, Rome, and Paris. Buyers of the E-Tuk in Zurich opted for heated seats as a defense against the cold of the Swiss city. Bike-loving Holland has snapped up 55 E-Tuks so far.
With a full battery charge, these vehicles can go as far as 70 kilometers before running out of energy. Of course, that also depends on how the driver drives. The maximum speed of these tuk-tuks is 50 kph. Once the vehicle is out of battery, it will take up to 12 hours to charge from a 220 voltage current. But since there are many types of chargers to choose from, the top-up time can be reduced to six to eight hours depending on how advanced the charger is.
The company is using conventional golf cart batteries in its E-Tuk. Although those are heavy, they're easily procurable around the world, which makes maintenance a lot easier. Harte sees this as the most practical solution for now.
Harte is aware his all-electric three-wheeler is three times more expensive than the normal tuk-tuks sold in Thailand. That likely explains why orders are coming in from overseas but not from Bangkok itself. However, he's looking long-term, when the electric rickshaw will not only help save the world, but also save on fares for customers and running costs for rickshaw owners.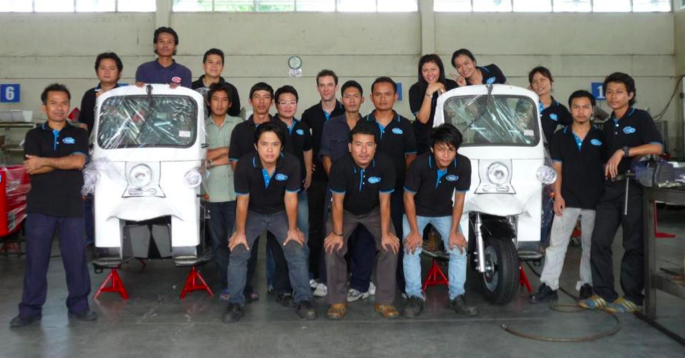 The startup's business tends to be seasonal, with more orders coming in from December to February as customers prep for summer festivals and vacation season.
Tuk Tuk Factory now has a 22 staff members, 12 of whom are in Thailand working on manufacturing and engineering. Although Europe seems to be the main market for the company, it's also looking to take the E-Tuk to Australia.
(Editing by Steven Millward)