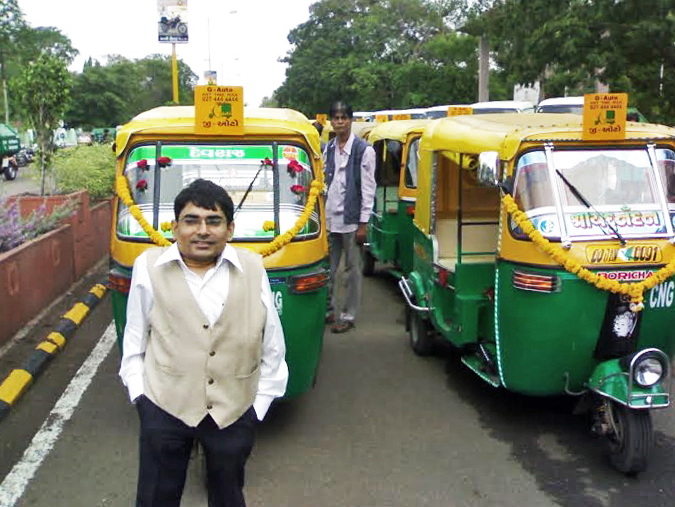 What you are looking at are probably some of the most high-tech tuk-tuks in the world. Don't be deceived by the mundane appearance of these auto-rickshaws – they're carrying technology that put even modern taxis to shame, like GPS tracking and GPS based distance and fare calculation, integrated Google Maps navigation, HD-quality entertainment for passengers, and location-based advertising.
While tuk-tuks – the commonly-used term for auto-rickshaws or mototaxis in Southeast Asia – are an exotic form of transportation in developing countries to tourists, they're sometimes guilty of taking advantage of foreigners by pestering them, dropping them at touristy stores (from which the driver gets kick-backs), and inflating prices beyond local rates.
Unfortunately, tuk-tuks don't always have a great reputation among locals, who detest haggling over prices and the smog from vehicles during a traffic jam, a prevalent problem in cities like Bangkok and Jakarta.
While Terra Tech, the Singapore-based startup behind the high-tech retrofitting, won't make tuk-tuks into three-wheeled limousines overnight, it does address some of the pain points by standardizing fares and improving the way these fleets are operated.
The company, of course, isn't just into modernizing auto-rickshaws. Besides the 50 tuk-tuks it has upgraded in Ahmedabad in North India, it has also deployed its suite of technologies in 85 taxis in Chennai to the South. Plans are in place to roll out this service in twenty private buses in Singapore, while pilots have already been completed in Manila (Philippines), Colombo (Sri Lanka), Batam (Indonesia), and Preston (United Kingdom).
Upgrading street transportation
Ultimately, Terra Tech's goal is to serve as a technological backbone for all manner of private hire vehicles in Asia, and ultimately improve experiences for consumers.
"We work with one or two incumbent taxi operators in each city to make them take a giant leap in terms of using technology for running their operations," says founder Varadharajan Kumaravelu.
Surprisingly, the company doesn't include a lot of sophisticated hardware. All features – from the fare calculation to vehicle tracking and booking management – are available through an Android app that can be activated from a tablet or smartphone. An ad network sits on top of the service, waiting to be monetized if it reaches scale. Private transportation companies can only use Terra Tech's platform by paying a monthly fee and an upfront cost starting from $500.
Kumaravelu, a Chennai-born 'accidental entrepreneur', founded the company in February 2012, and has since secured $100,000 in angel money and raised a round from Expara IDM Ventures and Singapore's National Research Foundation along with support from the Interactive Digital Media Programme of the Media Development Authority (MDA). The team of five, all engineers, are part of a deep field of startups that are attempting to make private hire transport in Asia more user-friendly and efficient.
It's an area of innovation that Asia can truly claim as its own, where the Silicon Valley rules don't apply. While private-driver-for-hire service Uber has expanded aggressively into Asia, it has mostly stuck by a familiar playbook: target well-to-do commuters in the region's most urbanized cities like Singapore, Seoul, and Tokyo. Its business model is costly to implement as it requires the startup to pay chauffeurs a fixed rate, while hoping that demand would grow enough to recoup the upfront costs.
You can't touch this
Uber, backed by Google, is typical of startups engulfed by a Silicon Valley mental bubble – they focus on first-world problems while leaving the 90 percent untouched.
Asian startups, therefore, have an opening where they can claw their way to the top: the technology gap in private hire transportation. It's where players big and small dot the landscape and where the battle is won piece by piece and relationship by relationship. It's confusing, noisy, and messy – perfect for Asian startups.
Just look at India's RedBus as an example. The online bus ticketing startup was purportedly sold for over $130 million after generating an annual revenue of $10 million. The strength of the company has inspired several similar ventures in Singapore and Vietnam.
What makes these startups compelling is that they're taking transport companies from pen-and-paper straight to the mobile age. They're B2B businesses offering full-stack solutions to customers and promising to make the transition to digital as painless as possible. They have recurring revenue and high barrier to entry, making them attractive opportunities for Asian investors.
While the likes of Terra Tech are not as sexy as Uber with its sleek app and cool features, they're reaching an under-served segment with huge market potential, fueled by urbanization and the accompanying trends of urban-rural commuting, budget tourism, and intra-city travel.
In cash societies, transactional services that demand payment from consumers, like in the case of Uber, are very tough to implement. What will float instead is a means of collecting money as simply as possible. And what easier method is there other than getting cash from companies?
(Editing by Steven Millward)