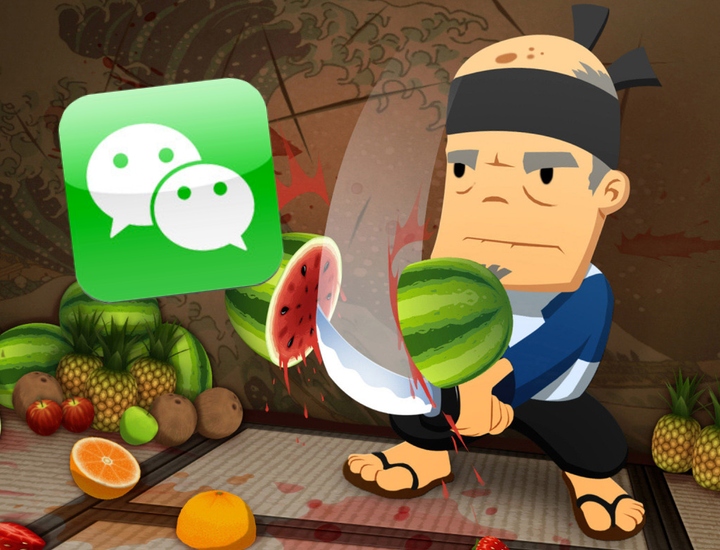 Being a fruit ninja means more than just slicing and dicing. It involves making friends as well. That's what the makers of Fruit Ninja are doing right now as they prepare to launch a version of the smash-hit game for WeChat, China's top messaging app.
Phil Larsen, CMO of Halfbrick Studios, is in China right now to hash out the details with Tencent (HKG:0700), creators of WeChat. Fruit Ninja for WeChat will be ready to terrorize fruit some time in early 2014. WeChat rolled out its social gaming integration in August this year.
Phil says the new version is not about new content, but a restructuring of the game to make it more social for Chinese users of WeChat. The game will have one centralized competition system based around your WeChat buddies who also play Fruit Ninja with a leaderboard of your friends' scores. You'll also be able to share your power-ups with WeChat buddies if you're that generous.
Building on over 20 million active fruit slashers in China
Fruit Ninja has been out in China for nearly three years, and in that time Chinese gamers have downloaded it about a quarter of a billion times (an estimated half of global downloads for the game). Phil says there are about 20 million active Chinese players of the popular title right now.
The upcoming Fruit Ninja for WeChat will be published by Tencent. Phil says that the Halfbrick Studios team is very excited to be bringing the game to WeChat. So far, WeChat's social games are all published by Tencent itself, but it's inevitable that global titles will arrive in due course. Fruit Ninja might turn out to be the first.
Since Fruit Ninja first launched in China, Halfbrick has entrusted Chinese localization of the game to iDreamsky, a Shenzhen-based publisher of over 50 top games, including Temple Run 2.
A celebratory foodfest
With Fruit Ninja fast approaching the third anniversary of its China launch, the startup team is readying a food-related promotion for the celebration, which'll probably happen around the time of Chinese New Year. It'll involve foodie freebies. "We want to reward Fruit Ninja players who've been playing for three years," says Phil, and points out it'll be fun to do some real-life engagement with Chinese fans as well.
(Editing by Josh Horwitz)