Update: Flappy Bird has been removed from both the iOS and Android stores.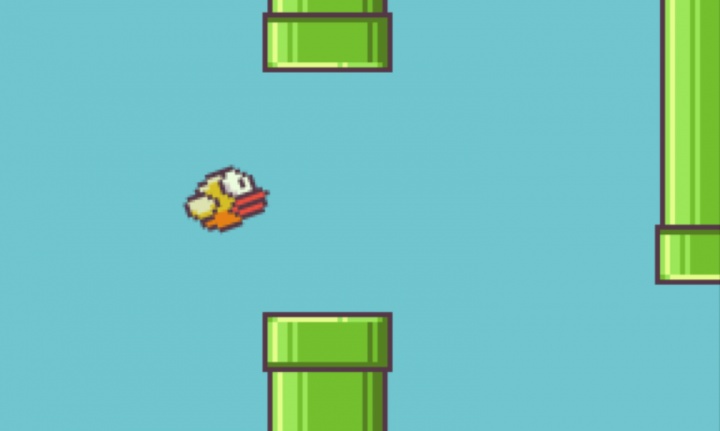 Flappy Bird, a mobile game that has taken the world by storm, will be removed by its creator Dong Nguyen in less than 22 hours. He says the removal has nothing to do with legal issues, and he's not planning to sell Flappy Bird but will continue making games.
The announcement is a surprise, considering it came just a day after a new game update that included new birds and UI tweaks. Flappy Bird has been downloaded over 50 million times and is making about US$50,000 in ad revenue a day.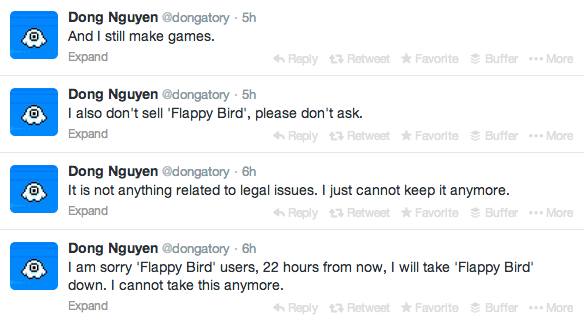 It works very simply: players navigate a bird through a series of pipes by tapping repeatedly on the screen. The game has drawn widespread praise but also scorn. Some critics allege that he has employed bots to boost the game's standings in the Apple App Store.
When asked about these criticisms, Nguyen told a Newsweek reporter on Twitter: "It doesn't matter. Don't you think? If I did fake it, should Apple let it live for months?"
Flappy Bird has even inspired a parody, aptly named 'Squishy Bird'.
While the exact reason for the removal is unclear, he hinted that it may have been due to the media attention he's getting. He tweeted: "Press people are overrating the success of my games. It is something I never want. Please give me peace."
Also read: 10 reasons why Vietnam-made game Flappy Bird is so ridiculously addictive and Why Vietnam is proud of Flappy Bird.