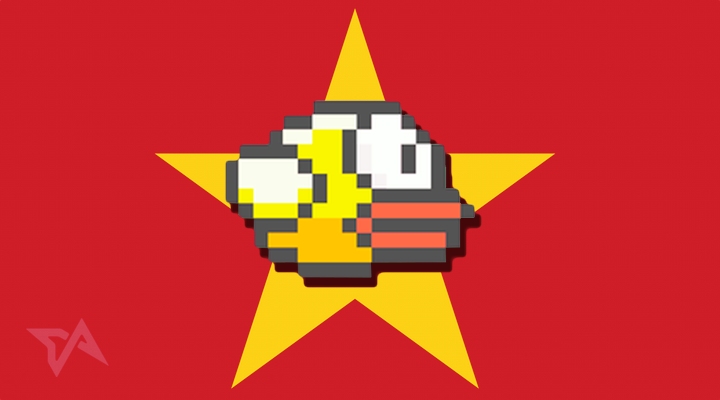 Flappy Bird, the hottest app coming out of Asia (and possibly the world) at the moment, is from Vietnam. Today, in Vietnam's startup and tech scene, Flappy Bird marks a major achievement. It's a moment of pride and triumph for the fledgling community. It's common to hear someone say "When you ask people about Vietnam, the first thing they remember is the war. I want Vietnam to be known for innovation. I want my product to break that mold and redefine what Vietnam is." And against the most bizarre and lucky odds, Flappy Bird has done it. Flappy Bird is the most famous piece of Vietnamese software in the world right now.
Of course, most of its players will not know (or care) that Vietnam is where the game came from. But for people in the Vietnamese tech industry, it's a huge deal. After all, how did this lone developer amass over 50 million downloads on the App Store, with over 500,000 reviews, two to three million downloads per day and $50,000 in revenue per day? It's baffled analysts and even unseated Facebook's buzzed-about Paper app, which has sat at second place in the App Store since Flappy Bird went viral.
Everybody will have their own explanations for how Dong Nguyen made the game in one night and rose to Appilionaire fame. But for today, it's a celebration of Vietnam's tech world.
Adding to Flappy Bird's mystique is Dong Nguyen's silence and avoidance of the press. Tech In Asia, despite corresponding with Nguyen regularly, has yet to pin him down for a face-to-face interview time – and the two of us live in the same country. Moreover, Nguyen had been on our radar as a developer to watch months before Flappy Bird went viral, but even at that time he remained press-shy. This is in stark contrast to most startups, game designers, and tech companies in Vietnam who are desperate for media attention, hoping it will help them get them more users, investors, and community support. And that has only fueled the interest in him as a person. But true to his own values, he is trying to stay focused on his product.
Flappy Bird is surprisingly not the only runaway success from Vietnam
The sad dichotomy of all this is the silence from investors and startups toward Vietnam as a whole. This includes both Asian investors and American investors. 500 Startups, on its first trip into Asia skipped right over Vietnam and went to Thailand, Indonesia, and Singapore. In a recent Tech in Asia survey, we asked what countries people would be interested in learning about at Startup Asia Singapore. Vietnam was largely ignored.
No doubt this has left Vietnam rather isolated from international investment and the sentiment is that Vietnam is a blackbox. But the thing is, Flappy Bird is not Vietnam's only mobile app success and the country is also opening up.
Changes in investment and the apps you didn't know came from Vietnam
Flappy Bird is yet another indicator of Vietnam's potential. As Action.vn, Vietnam's leading and oldest startup blog, noted last month, there were 18 significant investments in Vietnam in 2013, ranging from strategic investments, series A, series B, M&A's, and seed funding. Chris Zobrist, CEO and founder of Saigon Hub, Vietnam's largest co-working space, says "In 2014, we're going to see a big difference from 2013 in that there's going to be much more money and investment coming in from within Vietnam and international." Japanese, Russian, and Korean investors are all keenly looking at Vietnam for investments.
At the same time, it's becoming quite clear that Vietnamese startups are also very fundable. Flappy Bird, after all, isn't the only Vietnamese app that is topping the App Store. Fuzel App is not only the first app to introduce animated visual collages to iOS but is also consistently towards the top of photography app rankings. INKredible is also another app that has topped the App Store in the productivity category for iPad, ranking number one ever since its introduction. It's also from Vietnam.
So yes, Flappy Bird is cause for celebration and this will be a big year for Vietnam. There's more to come out of this country.
(Editing by Josh Horwitz)