The automotive industry in Indonesia has grown rapidly. According to a report by The Association of Indonesian Automotive Manufacturers (Gaikindo), in 2013, Indonesia sold more than 1.22 million brand new vehicles through online listings and physical dealerships, marking a 10 percent increase from the previous year. Furthermore, the study expects Indonesia's car sales to increase by 10 percent to 1.3 million vehicles sold for the year 2014.
In this thriving market, there are a lot of marketplace options for buying cars that you can find on the web. Below, Tech in Asia has listed five of the key players (in no particular order).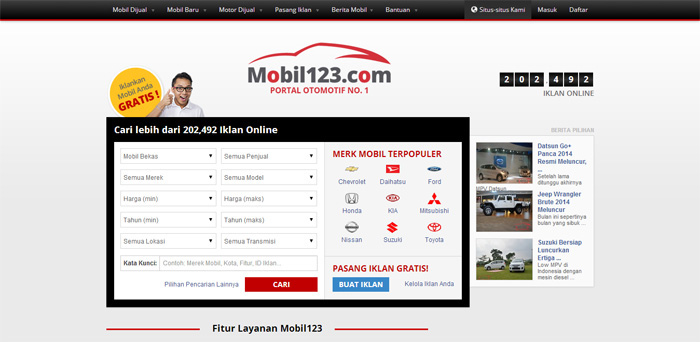 Mobil123 is one of the largest automotive marketplaces in Indonesia with over 200,000 listings to date and more than 1 million unique visitors. The site was founded in 2008 before it was bought in 2012 by Australia-based iCar Asia (ICQ:ASX).
iCar Asia's head office is located in Kuala Lumpur, and it is currently the biggest online automotive network in ASEAN. Other businesses in their portfolio include ThaiCar.com and Autospinn.com in Thailand, and Carlist.my and LiveLifeDrive.com in Malaysia.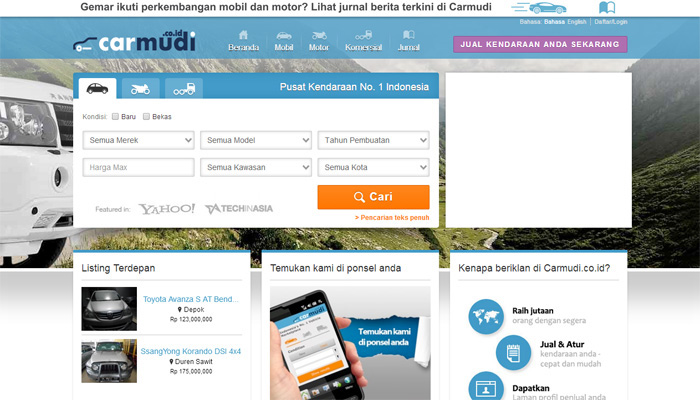 Carmudi is a newcomer to the online automotive marketplace. Founded in the early 2014 and already with over 4,000 listings, the team remains confident that they will eventually become Indonesia's leading online marketplace for used and brand new cars.
Carmudi partners with local dealers and used car showrooms such as Sky Moto and Galeri Mobile to provide listings for their site.
As a part of Rocket Internet, Carmudi is a global brand with sister branches spread across countries like Pakistan, Bangladesh, Myanmar, and Philippines.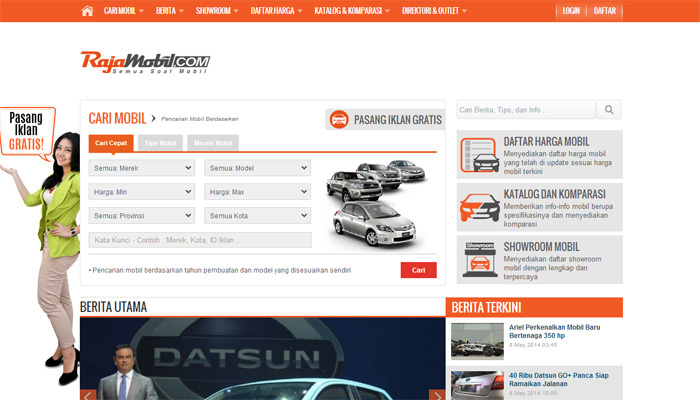 RajaMobil is like an extension of its physical showroom, which has been around for a while. Established in 2012 by authorized Toyota dealer Plaza Toyota, RajaMobil sales are now extend beyond Toyota to include brands from different car manufacturers.
RajaMobil provides access to 35,000 listings from authorized dealers, used car dealers, and privately-owned used cars. Furthermore, the site offers special listings for those who crave luxury car brands such as Ferrari and Porsche.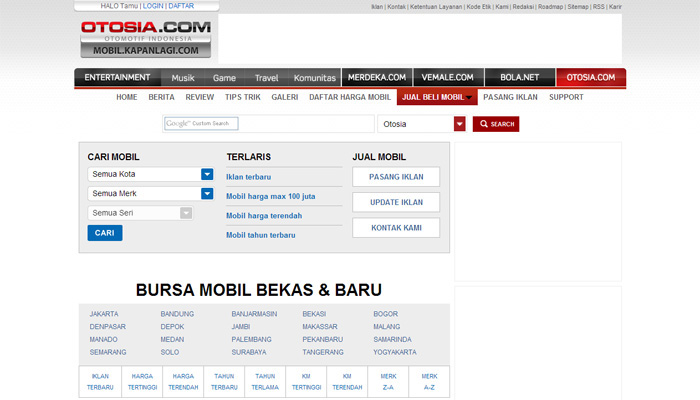 Originating as a sub-domain of one of Kapanlagi.com, one of Indonesia's largest media sites, Otosia's readership traffic was eventually high enough to convince Kapanlagi to turn it into a standalone web portal. Otosia's main content is about automotive news in Indonesia. But it has a sub-directory that focuses solely on facilitating buying and selling of new and used cars.
With more than 15,000 listings that range from pick up trucks to luxury cars, this marketplace could be your one stop shop when it comes to buying cars.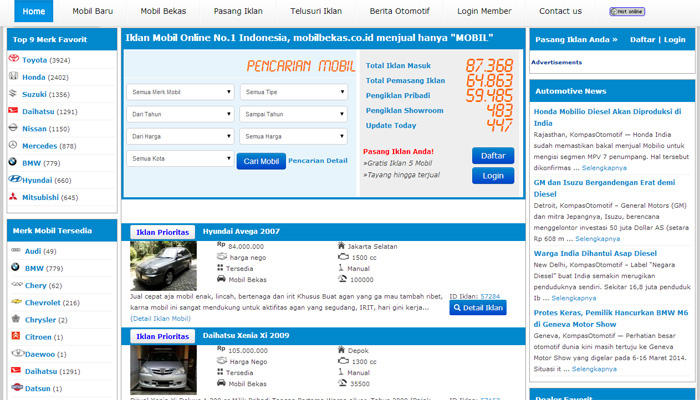 Established in 2009, mobilbekas has become one of the largest automotive marketplaces in Indonesia, with over than 87,000 listings from 64,000 ad-listers.
One thing that give mobilbekas an edge over its competitors is the fact that it has a massive userbase. Written on their site, mobilbekas have over than 59,000 registered private users and more than 400 dealers. That only mean one thing: More listings for you to choose.
---
(Photo from Flickr user Moyan Brenn)