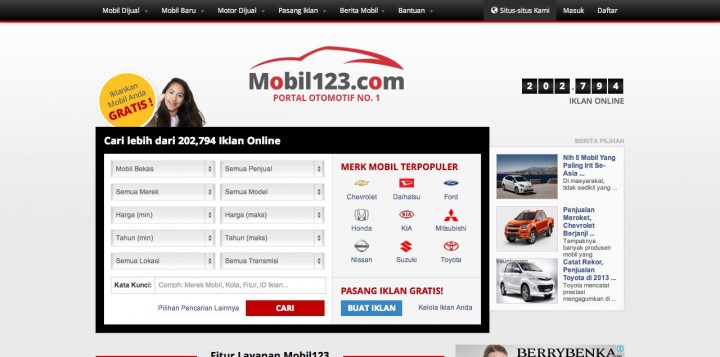 Indonesia already has a handful of car classifieds sites in the country, and one of them – Mobil123 – wants to drive faster than the rest with newly found money. Mobil123's announced yesterday that its Malaysian parent company iCar Asia (ICQ:ASX), which is listed on the Australian Stock Exchange, received an additional investment of A$7.2 million (US$6.5 million) from Australian site CarSales.com. The money will be used for Mobil123's product development and marketing activities.
Mobil123 is arguably Indonesia's leading car classifieds site. The team says that it now has over 200,000 live car listings, more than one million monthly unique visitors, 8.2 million pageviews, as well as over 165,000 leads. The site's listing grew by 138 percent year-on-year while unique visitors grew 600 percent. The team now has 48 employees in Jakarta.
Irfan Badruzaman, Mobil123's head of marketing, says that they just launched a TV ad in Indonesia last week. Mobil123's sister classifieds sites in Malaysia and Thailand are complemented with a stand-alone car news portal, and Badruzaman says that they will bring such a news portal in Indonesia, but are still considering whether to do it in a separate website domain.
Mobil123 has quite a few competitors in this market which include Rocket Internet's Carmudi, KapanLagi's car classifieds sub domain, RajaMobil, and MobilBekas. Badruzaman believes that Mobil123's first-mover advantage (the site launched in 2008) and strong connection to car dealers can help make a difference in its battle to winning the Indonesian market.
Mobil123 was acquired by iCar Asia in 2012. The latter company has previously raised $13.4 million from CarSales last year.
(Editing by Terence Lee)