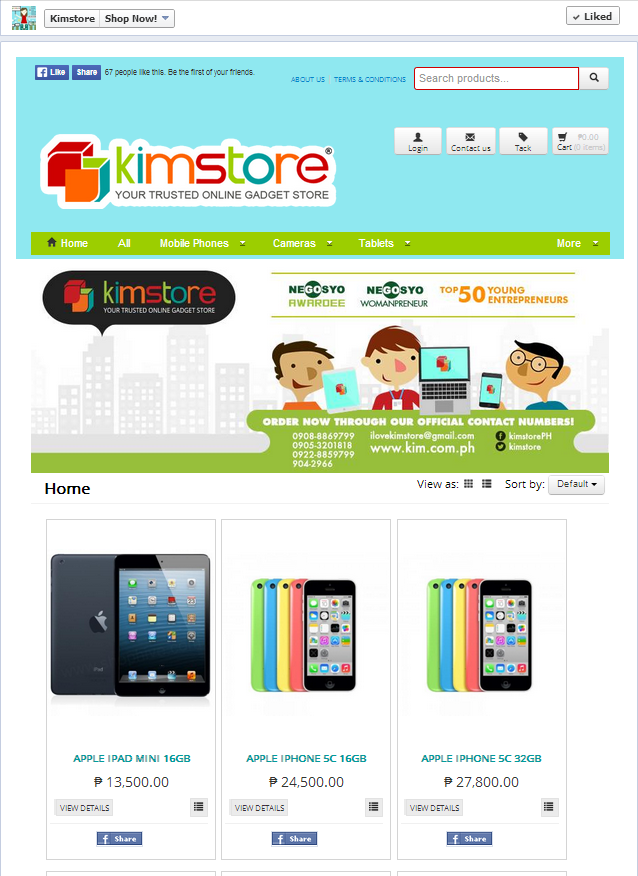 After selling gadgets on Facebook for over seven years, facebook-commerce page KimStore has now tapped the services of Singapore-based startup Tack This to better its consumers' online buying experience. For Tack This, it's also a part of its expansion into the Philippines.
Launched in Singapore in 2011, Tack This is a platform that provides e-commerce pages on Facebook (f-commerce) and blogs a real virtual shopping experience without the need to write code from scratch. Users simply need to copy and paste code, similar to how YouTube videos can be embedded into any site.
Tack This partnered with telco Smart Communications' mobile app development arm Voyager Innovations as its local partner in tapping the f-commerce and e-commerce markets in the country.
One of its first customers in the Philippines is KimStore, a go-to virtual shop by Filipino consumers which has over 260,000 likes on Facebook. It became popular by offering smartphones, tablets and other devices at relatively low prices compared to retail stores.
Prior to using Tack This, KimStore accepted orders through calls, SMS and personal messages on Facebook. Now, KimStore founder Kim Lato says with Tack This on its Facebook page, consumers can now do away with the manual ordering process. She adds:
TackThis helped in widening my store's online presence by allowing my customers to buy straight from my Facebook page.
With Tack This on KimStore, users will be led to a page of all the available items from the seller by clicking a tab. They can then add an item to the shopping cart with another click. Apart from that, consumers can choose their preferred payment and delivery options.
While Tack This' local partner Voyager cannot yet disclose the number of merchants using the platform, it says that "Tack This has already gathered significant traction among local sellers."
Aside from Facebook, online merchants can use TackThis on their blogs hosted on Blogger, WordPress, Livejournal, Tumblr, Weebly and Joomla, among others.
Square.my, BentoWeb , MySellr, among others, are also some of the other players in the social commerce space in Asia.
(Editing by Terence Lee)