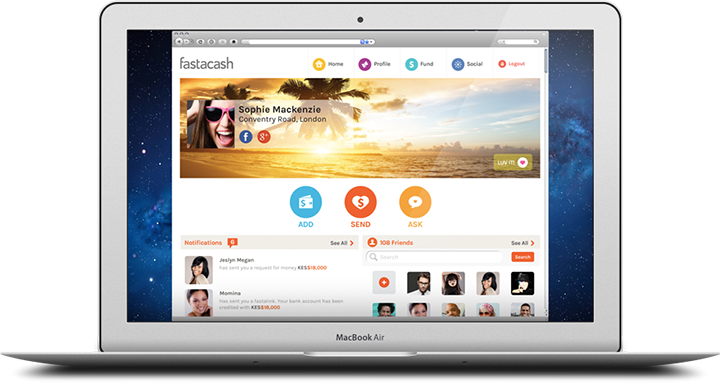 If we are spending much of our waking lives on Facebook, then why not use it to send money as well? That's something that Fastacash, a Singapore-based startup, is trying to tackle.
Here's how it works: users must first connect their debit card to a Fastacash account. From the Fastacash dashboard, they can generate a link, and indicate the sum of money they want to send. They must also state which Facebook friend they want to send the money to. The link can then be shared with the recipient using Facebook, Twitter, email, or SMS.
Besides money, the app will eventually let users send digital coupons, mobile credits, and other tokens of value.
Fastacash has already launched in the United Kingdom. Through a partnership with UK-based cross-border remittance service provider VFX Financial, users can send money from the UK to Kenya.
The startup plans to introduce the service to Indonesia and Russia by the end of the year, through partnerships with Indonesian payment service provider Doku, as well as Russia's Unistream, an international payments and money transfer system.
$3 million in the bank
To fuel its expansion, the company has raised a $3 million series A round from Singapore-based investors Jungle Ventures and SPRING SEEDS Capital, as well as Hong Kong's Funding the Future (FTF). Last year, it raised a $1.5 million seed round from FTF.
One of Fastacash's most interesting features is the ability to send photos, videos, or audio messages along with money. It could become popular among overseas workers who, along with cash, want to tell their families and friends that they are well.
"People or companies can now share stories, photos and experiences when sending value. Every action of sharing is accompanied by an emotional sentiment," says Vince Tallent, chairman and CEO of Fastacash, who was a veteran at electronic transactions firm Ingenico Group (ING.PA).
The company is founded by Shankar Narayanan, a serial entrepreneur in the banking and finance space, and Michael Wee, an experienced creative director in the advertising industry.
While there are plenty of startups tackling alternate payments, it seems there aren't many attempts to fuse social networking with monetary transactions. BillPin, an app for tracking personal debts, could move in that direction, but it still hasn't implemented a payment feature.
PayPal's Send Money Facebook app, launched in 2011, was probably the most noticeable attempt, but the payments giant hasn't figured out how to make it work.
Perhaps Fastacash can be the first to crack this.

(Editing by Steven Millward and Paul Bischoff)