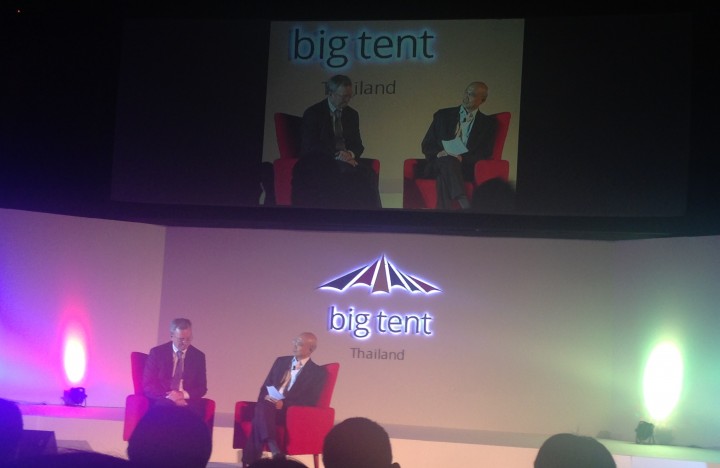 This morning, we reported about Google chairman Erich Schmidt's interview with the local Thai TV station Voice TV, during which he answered questions submitted by local students. This afternoon, at the Big Tent Thailand 2013 event hosted by Google Thailand, Schmidt dscussed several issues ranging from internet to 3G to political instability in the country.
The bright side
According to Schmidt, Google has seen Thailand grow rapidly over the past several years. He mentioned the mobile penetration of 130 percent as a standout benchmark. However, Thailand is a bit behind the game for 3G. If the government develops 4G LTE infrastructure soon, Thailand's internet penetration and adoption rate will grow even faster.
Looking at the possible growth of Google Thailand, Schmidt pointed out that there are more e-commerce companies in the country now compared to when he visited 15 years ago. Lifestyles have changed. Thais have become more sophisticated and rely more on technology. Google interprets this shift as a sign that there's room for growth.
Thailand and ASEAN nations
In Schmidt's eyes, in terms of general activity on Google in Southeast Asia, Singapore sits at the top, while Thailand is on par with Malaysia. However, with a more stabilized 3G network, Thailand should rank among the top three by next year, ahead of Indonesia and Vietnam.
One tablet per child
Although there are controversies concerning the Thai government's one tablet per child program, Google's executive chaiman loves the policy, calling it a "forward-thinking idea."
Politics and technology
After a while, all the tech talk took an unexpected shift towards politics. The host asked Schmidt to share his opinions about ongoing protests against a recent bill which could potentially grant amnesty to former Thai Prime Minister Thaksin Shinawatra, who embarked on a self-imposed exile in 2006 amidst corruption allegations. Schmidt gracefully responded without taking sides, stating:
Thai citizens have the power in their hands. Their phones. This didn't happen before.
China and North Korea
Although Schmidt didn't mention much about his North Korea visit, he did say that if Google enters North Korea, the company believes the connection and information will benefit everyone.
For China, Google only sees a small market share in the mainland, but the company is doing quite well in Hong Kong. Thus, he admitted it's fair to say the company's future depends on the Chinese government's censorship policy. Schmidt said that Google "will not compromise" on that notoriously un-compromisable issue, indicating that average Chinese users won't be using Google search for some time.
(Editing by Paul Bischoff and Josh Horwitz)