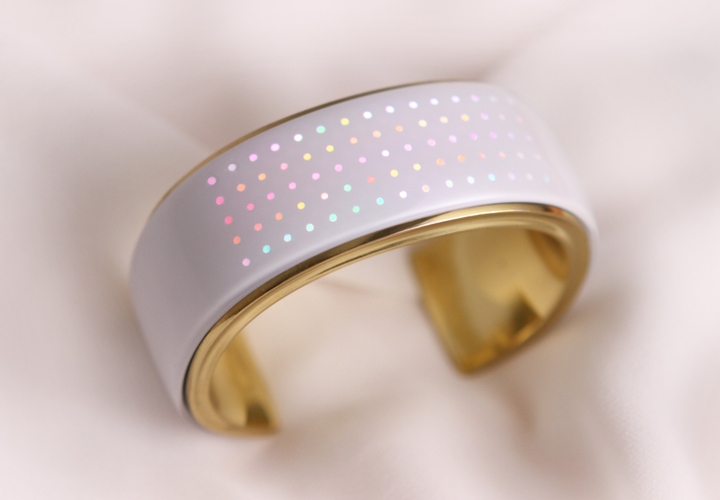 "The only way to speak to women is to make sure their voice is integrated into the product, from concept through completion," says Jing Zhou, the entrepreneur behind the glitzy piece of wearable tech that is the Elemoon wristband. It features activity sensors and notifications, but it differs from most wearables in looking better than it sounds. It's now on Kickstarter.
"Many existing wearable tech products are in the health and fitness category, and most focus on function while ignoring form. They lack personality and sex appeal, plus they aren't very pretty. It's clear they weren't designed for women," adds Zhou. "So we asked ourselves: 'What if we could have a bracelet that changes color and pattern to match whatever we wear?' We all liked that idea, and tried to recreate the sensation of traditional jewelry with new material and interactive features."
The Elemoon band ties to your iPhone for customizable notifications that make full use of the 75 colorful LEDs on the one-inch-broad gadget. There will also be activity tracking once it ships to early customers in February 2015, but there aren't many details on the fitness side of it yet. The Elemoon appears to be better suited to turning heads than turning laps, and by Zhou's own admission it's designed as a "lifestyle" gadget rather than something that competes with the Nike Fuel Band or something from Fitbit.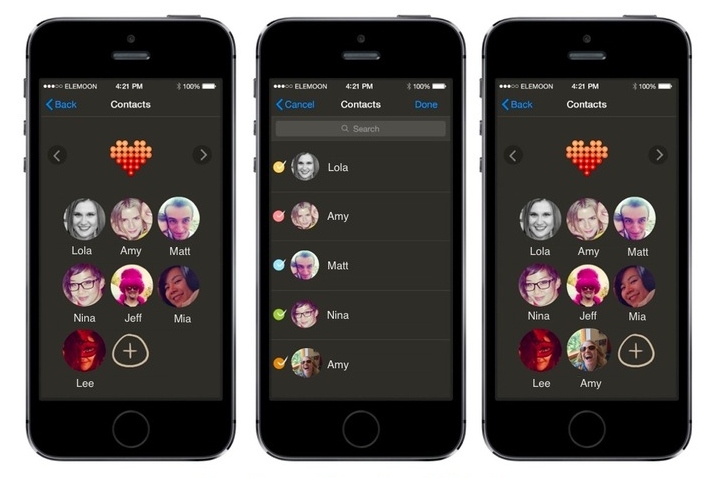 The Elemoon Kickstarter campaign has so far raised US$58,000 from a US$100,000 goal with 37 days to go.
Zhou is an experienced starter-upper who created and sold a mobile ad company in China before she moved back to the US. This glam gizmo is her newest venture, run from New York but manufactured back in China.
See: 12 of China's hottest hardware startups
It was during her time in China that Zhou got visual proof of something she felt was already a thing – "that the majority of digital consumers are women." So she tried to tap into that with another startup called Elepon. "It's a Tamagotchi-like social app for young women to communicate with their best friends," explains Zhou. She adds:
We saw a lot of smiles when girls were playing with Elepon, but we also realized there were limitations in the app experience. Our users wanted something tactile, something they could touch and smell – something physical. We started brainstorming how we might marry the app with consumer products.

Then, a year ago, the emergence of wearable technology captured our imagination, but none of the products on the market truly inspired us. We instantly knew this was a huge opportunity and decided to combine software and hardware to evoke a truly emotional experience.
A Kickstarter pledge of at least US$179 will get you an Elemoon in February, so it isn't cheap. But that's to be expected when hi-tech ventures into high fashion.