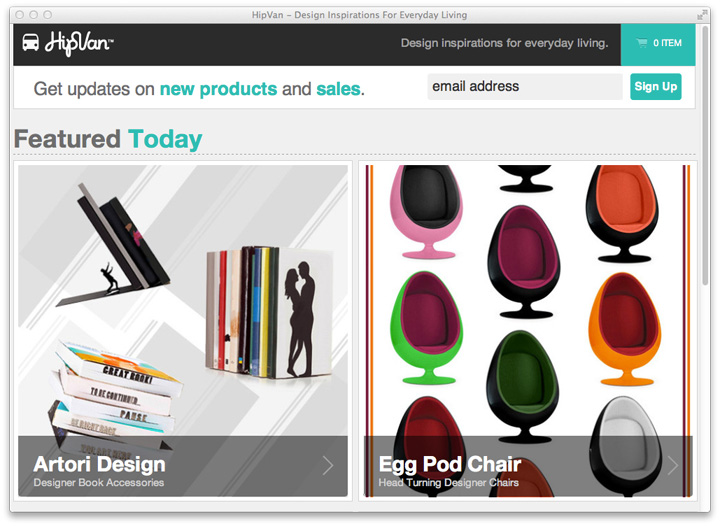 Founded by Shobhit Datta, Kevin Vo, Deborah Wee, and Danny Tan, HipVan is a design-focused e-commerce site in Singapore that went live today. Similar to Fab.com, the idea is to bring great design products to buyers. Besides DSYR in Malaysia, I haven't had the chance to check out too many sites working on this kind of idea in Southeast Asia.
Co-founder Danny Tan believes that well designed products, though in high demand, are often hard to come by and are only available at a limited number of places. Danny also believes that HipVan will help connect more independent designers to customers so they can focus on what they do best — design a great looking product. "We are relentless when it comes to finding great designs and featuring them on HipVan," said Danny today.
Readers might recall that Danny was the creator of Found, an app that helps users organize meetings with friends through mobile. The startup, unfortunately, didn't gain traction and is now history. I was curious to hear Danny's thoughts on the things he learned from the previous experience. He explained:
The greatest failure of Found is building a product that has no demand. I know this is a cliché and something that is often mentioned, but it's very easy to get sucked in when you are too driven by the vision. Of course, it comes a little with the territory when you think you are working on a breakthrough product. HipVan hopefully mirrors my own maturity because its much more measured. Ultimately as entrepreneurs we are interested in providing value to people, so we will keep testing this by observing demand.
Anyway, it's good news that Danny is back building a startup. He now has a sort of badge stuck to his chest to commemorate his failure in the last venture which I think is certainly something to be proud of rather than to ashamed about. We look forward to his new venture at HipVan.com.