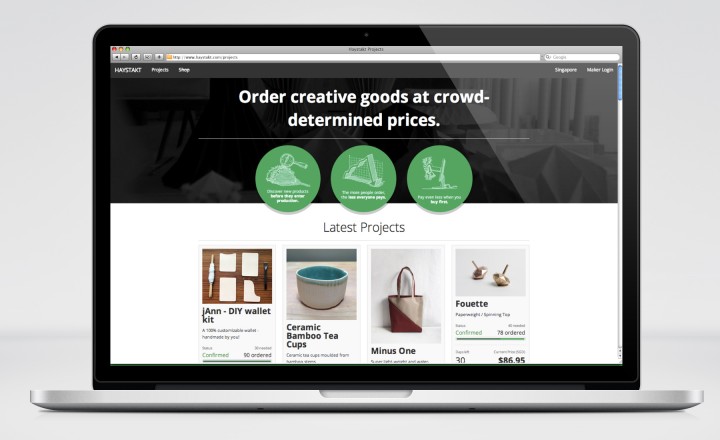 Crowdfunding has become an important means for startups to gauge interest and to get capital. While there are many attempts to harness the internet for funding, Singapore-based startup Haystakt is putting a twist on a familiar concept. It launched Projects, a crowdfunding site which allows crowd-pricing of products posted on its platform.
In a nutshell, Haystackt's Projects is an e-commerce marketplace where users can influence the pricing of a product. Every item or "project" that's posted on the marketplace has a posting duration and minimum order quantity which is dictated by the maker.
Within that selling period, the price will keep dropping as more buyers pledge their money, and everyone benefits. According to Haystakt founder Joel Leong, this is done through a price calculator that calibrates the graph based on makers' inputs of per-unit and fixed costs, desired earnings, and minimum order quantity.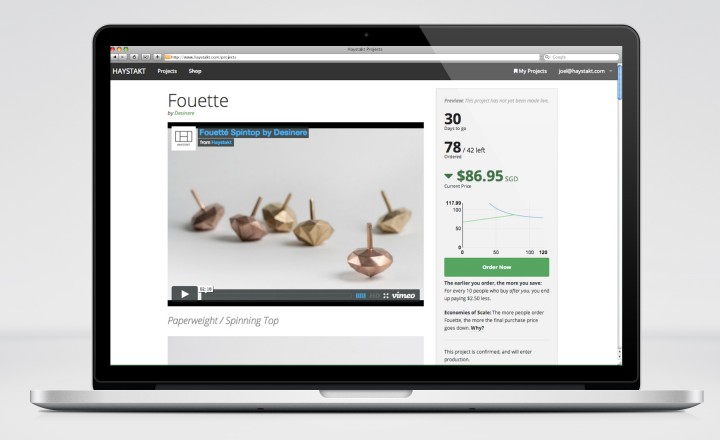 But how would the site encourage someone to make the first pledge? An addition to this price calculator is an early adopter bonus which gives initial pledgers a discount for every other person who orders after them. He adds:
All these are determined by the maker, designed to help cover their overheads at any quantity point, project and protect their earnings. Once we recognized price to be a function and not a fixed numeral, we realized we could pass on cost savings by first determining the number of units to produce. It also opened the opportunity to incentivize early adopters in ways that weren't previously possible without the Internet.
Launched in 2012, Haystakt started out as a marketplace for independent markers to sell online. But the founders realized that small producers often struggle with pricing and quantity decisions. Through Projects, Leong believes that the company can provide "a more efficient distribution model" to product designers and producers. This is because makers, who would only start producing the items after the selling duration is over, would already know the target quantity to make.
Besides Singapore, Haystakt will also launch projects from Indonesia and Thailand. There's also a line-up of projects from other countries such as India and France. It targets to have around 100 projects by the end of the year.
(Editing by Terence Lee)