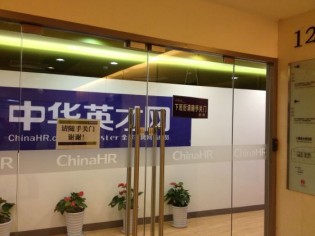 ChinaHR has been having a tough week, and it led up to protests and hurried negotiations after more than half of the staff was laid off on Wednesday. But the proposed solution raised by Monster.com CEO Sal Iannuzzi (Monster owns ChinaHR) seems not to have gone through, as Chinese tech media reported Thursday morning that outsiders were been barred from the office and employees are saying that the internet inside the office has been cut off. Guards stood at the doors to ensure no one who wasn't supposed to got in.
It all seems to be an attempt to keep information from spreading outside the office, but what information isn't yet clear. Monster was rumored to have arranged a buyout deal for ChinaHR with an unnamed buyer (rumored to by Myjob), and that deal needed to be finalized by the end of Thursday to take effect. Neither ChinaHR nor parent company Monster have announced anything official yet, but given the high-profile protest and the stories of accounting fraud at ChinaHR, it doesn't look like Monster is likely to have gotten a great deal, if it was even able to sell ChinaHR at all.
It's probable that news will emerge later today revealing ChinaHR's fate, and possibly also resolving the ongoing dispute with the employees that remain following the layoffs. We will keep an eye on the story so be sure to check Tech in Asia for updates later in the day.