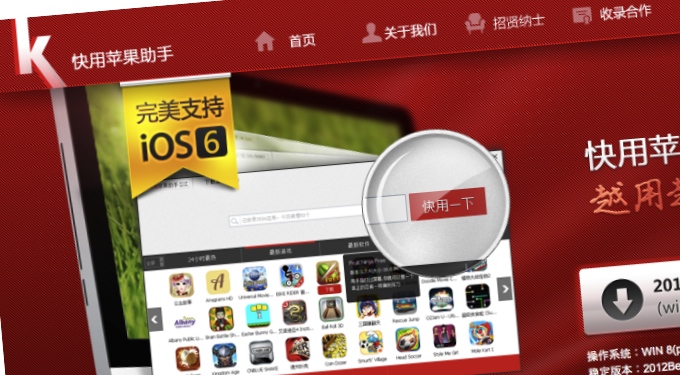 With the recent closure of the iOS jailbreak app Installous, the mischievous hive-mind of the web has been looking for an alternative way of running pirated apps. And you won't be too surprised to learn that China has the answer in the form of KuaiYong (literally meaning "use quickly"). It's essentially a rogue app store in the form of a Windows PC app that allows pirated iPhone and iPad apps to be installed without even needing a jailbreak.
This alarming development means that pirating iOS apps has become as easy as it is on Android, where a number of third-party app stores in China carry ripped-off apps. KuaiYong touts itself as supporting even iOS 6 on any device, since no jailbreak is needed. Its own tagline says: "New apps every day, you don't need to understand mobiles and jailbreaking, don't need iTunes, don't need to login – just pick an app, download and install, and use it."
KuaiYong was spotted by TheNextWeb today. Digging back through KuaiYong's official Sina Weibo account (here), it actually launched the first beta of its rogue app back in June 2012. Being only in Chinese seems to have caused it to go under the radar for so long, though there are a few demo videos and written guides out on the web showing everyone how to use KuaiYong on their own iPhones or iPads.
TheNextWeb goes on to point out that KuaiYong is basically using bulk enterprise licensing to bypass Apple's safeguards. So the Chinese service is essentially distributing the exact same app – with the same license ID – over and over again.
More trawling through Weibo suggests that the man behind KuaiYong is Xie Lei (pictured right; his Weibo page), who calls himself the CEO of this rather dodgy new Chinese startup. Just a few days ago he posted that KuaiYong now has five million users, and for some reason attached a photo of the top of his shaved head along with that snippet of info. It was posted from his iPhone. We wonder when Mr. Xie will get a call from Apple's lawyers.