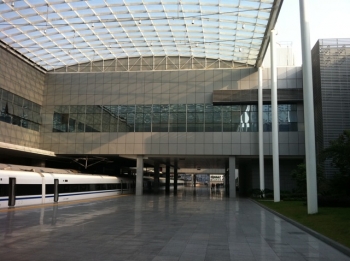 I shun the plane for domestic travel inside China for a big reason — the fact that they don't come with connectivity and that you are forced to switch off your phones. It feels like a bit of a two-hour deluxe prison as I'm cut off from the rest of the planet. I've sent out 80,000+ tweets since I joined Twitter… and I don't like being off the grid for that long!
However, for those who have been waiting for wifi onboard China's high speed trains, especially those on the flagship Beijing-Shanghai line, I've recently taken them out for a spin. Despite June 2011 reports promising wifi access by late 2011, the fact is this: we are coming to the end of 2011 in just a month's time — and there's still no Internet!
Actually, that's a bit of a "lie", so to speak. On both the new CRH380AL trains and the CRH380BL trains, you can indeed search for wifi networks and locate them. And you'll, in fact, be able to connect to them without a hitch. I tried out the lie-flat seats at the front of the train to Shanghai and connected effortlessly to the "CRH2" network.
But at that time I felt like I was dealing with the same curse as Air China's "wireless Intranet service": no real connection to the outside Web. Worse, not even an expected "Welcome to CRH Internet" start page turned up. I Googled for things reasonable and "reactionary" — and as many a comedy show might say, got — "no nothing". (As in: nothing.)
There is a bit of a way around this, however. If you bring onboard a 3G connection, you can use that as long as it is on China Unicom and you have the iPhone 4 or later, which supports wireless hotspots. (If you have an iPhone 3GS, you can do the same, but you'll need a USB connection on your Mac.) Unfortunately, your iPhone 4 (or laptop, or both) might suffer a premature death as its battery gets depleted faster than usual. Thankfully, these trains come with power ports under nearly all seats — and right next to the armrests on lie-flat seats.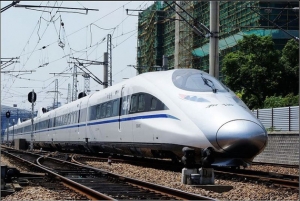 The design, though, is less than optimal: at times, they're so underneath the seat that you'll need an extended cable, or suffer as you get productive in a terrible seating position. And don't for a moment think the ports by the armrests are any better: some rechargers have a hard time plugging themselves in. It remains to see what the as-yet still-in-the-works next-generation trains might offer.
Once you're online, though, you'll at least be able to access the real Internet, and once the obligatory VPN is on, gain access to the real real Internet. Loads better than the Air China intranet variant…
Signal-wise, the Beijing-Shanghai line is relatively tunnel-less, which means that you are able to connect and stay online. Much of China's first express HSR route, the Beijing-Tianjin line, is also fairly straightforward, although the 3G network "goes off" when the train leaves the outermost fringes of the municipality of Beijing. Much less luck for those doing the Wuhan-Guangzhou HSR, though: Northern Guangdong is full of tunnels, cutting you off more often than you'd like!
PS: At some stations, you can actually connect to the Internet, but it might require an account with mobile subscribers. Given how short the train stops at these (outside of termini), it might not be worth it…