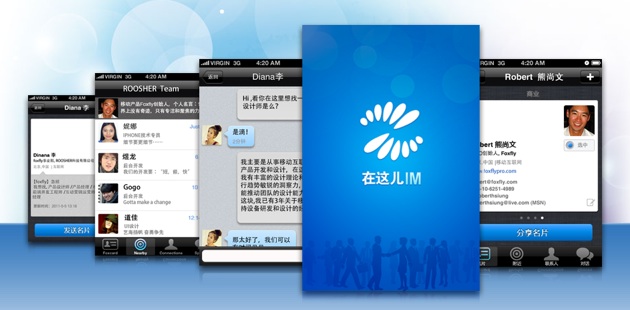 It's all too rare that a Chinese startup gets the satisfaction of an exit in which it's snapped up for its userbase or expertise. But that's what has happened to the location-based business networking app ZaiZher, which is now acquired by larger rival Tianji.com.
The deal has been confirmed this week by Robert Hsiung, the founder of ZaiZher, to Chinese media; the acquisition was actually wrapped up last November. The financial details have not been disclosed, but it's said that Tianji paid a seven-digit figure (in US dollars) for ZaiZher. We've reached out to Robert for further details and will update if he can reveal more. You might recall that he gave us a demo of his app back in 2011 (see video below) shortly after it launched, showing how it's the perfect app for folks to exchange business cards digitally.
Tianji is the China-only business social network run by French company Viadeo. It competes with LinkedIn in China, as well as other rivals in this space such as Ushi. Actually, Tianji is the biggest of the bunch in China, with well over eight million users at the last count. CEO Derek Ling has told us that 90 percent of Tianji's users are age 24-40 and just over half of those are at management level.
Viadeo secured $32 million in funding this time last year, with much of that going to Tianji and its China-based operations. With the ZaiZher acquisition, it seems that Tianji is keen to sharpen up its mobile strategy. Indeed, Robert will now move to Tianji and head up its mobile efforts.
The ZaiZher site remains online, and it's not clear if it'll be rebranded soon. Either way, here's the video demo of what Tianji was so keen to buy:
(Source: ChinaVenture – article in Chinese)