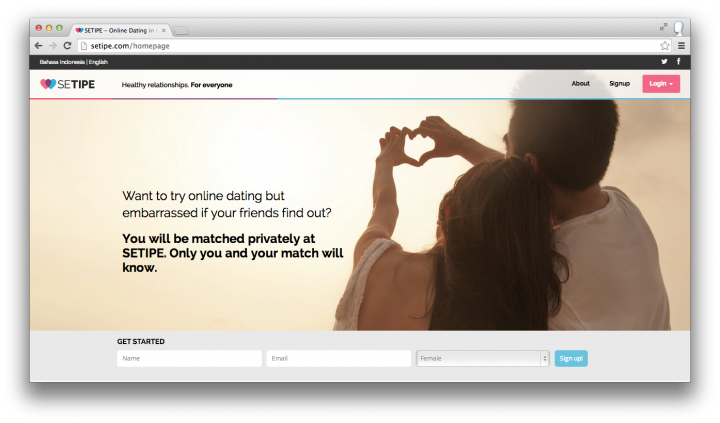 If the popular songs in Indonesia are any indication, then love is something that a lot of people in Indonesia are hoping for. But the journey to love can be an arduous one with its own set of challenges. Enter Setipe, arguably the first online matchmaking site in Indonesia that uses an algorithm to hook up two individuals.
Founded by two people who have learned their trade at Rocket Internet – Kevin Aluwi, head of business intelligence at Zalora Indonesia, and Razi Thalib, former VP of digital product and online marketing at Zalora Indonesia – Setipe's site looks smooth with an eye for detail. Users who are eager to find love online must go through a lengthy signing up process which involves them answering 140 psychological questions 1 to find out what you're like, and what kind of person is the right match.
(See also: 5 reasons why Rocket Internet graduates make good entrepreneurs)
Matchmaking
Users will then get a report about their personality, and the system will automatically match the users according to the highest compatibility results. After being matched to another person, Setipe will also give a report about the duo's strengths and weaknesses as if they were a couple, and gives advice for a healthy relationship for them both.
Thalib says this means the couple feel like they're having a second date even on their first offline date.
After receiving a general profile of your match – like real name, age, and picture – as well as getting the compatibility report, the couple can choose whether they want to start a conversation with the other user. If one user says no, then the system finds another person for both users.
Setipe officially started taking applications in October, and Thalib says that they have garnered close to 3,000 people on board with zero marketing costs. So far so good. Right now Setipe is operated by five to six people, but none of them are working full-time yet for this startup project.
Stigma of online dating
I must say that although online dating sites have been in business in Indonesia for many years, it's still not a popular thing to do here. Thalib – in a guest post on DailySocial – says some people think of online dating users as people who are desperate or sleazy. Those two words are definitely not cool.
So while there are people who are open to using online dating sites like Setipe, they can somehow be deterred to even try because of the social stigma involved.
To alleviate all those concerns, Setipe assures its users that their profiles on Setipe will be kept confidential 2. No one can Google their Setipe profile, so users won't need to worry that people can find out about their activity. The only people that would know about your Setipe activity is the other person you've been matched with.
Moreover, the Setipe team brought in local celebrity Christian Sugiono – who runs his own startup, humor site MalesBanget – as an evangelist to help promote how cool it is to do online dating in Indonesia. The idea that someone as popular as Sugiono is talking about an online dating site can definitely encourage people to give it a try.
That social stigma was the reason the team decided to do algorithm-based matchmaking, instead of letting its users run wild and contact as many hot guys or girls as possible. According to Setipe's research, the typical thing that happens on online dating sites is that women get contacted by (sometimes) too many men, while the guys only get few responses. But the matchmaking system, whereby each gender gets virtually connected to one person at a time, makes the playing field more equal and the experience less frustrating.
The Setipe team hopes that they can hold a monthly offline speed dating event to bring its online members into the real world. The second objective for this is to keep testing how accurate the online matchmaking system is when compared to the results of the face-to-face speed dating events.
Online dating apps are quite popular across Asia, and many of them are using the same matchmaking system as Setipe. We have Thailand's Avalable and NoonSwoon, as well as Korea's Hey and Singapore's Paktor. Another Indonesian dating startup worth watching is Tristup.
Monetize later
Right now Setipe doesn't earn any revenue from its activity. Its matchmaking engine has just started to run and the team is offering free usage to the first adopters.
Sugiono acknowledges that they haven't really decided on which way they're going to monetize the platform. One way is a membership fee with some privileges offered to platinum members, or another way is through advertising.
There are other online dating sites available in Indonesia, but most of them are geared towards some niche like Indonesian women looking for caucasian guys.
So what do you think folks, would you give Setipe a try?
(Editing by Steven Millward)