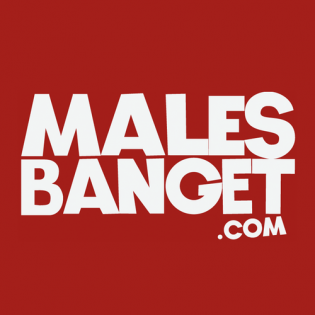 Claiming to be the original humor website in Indonesia, MalesBanget.com, or MBDC as it calls itself for short, is indeed a pretty funny website. Some of it is hilarious. The website name actually means "very lazy," it started in 2003 and focuses on funny pictures, online videos, and web series – putting the site years ahead of the likes of Reddit or Icanhascheezburger.
But it's still business-minded – the site partnered up with online travel service Valadoo recently and news portal Lintas.me last year.
To find out more about monetization and how MBDC is run, we talked to Christian Sugiono via email. He's the man behind MalesBanget.com and very much a local celebrity.
Interestingly, MBDC went into hiatus for some time, what made you guys relaunch the website four years later?
Yes, we were gone for about four years, because at that time we felt that the internet wasn't ready to accept us. We have returned after years of practice from all around the world to give our best to the internet.
What inspired you to build MBDC?
We wish to spread normal everyday things that are interesting when observed from an entirely different point of view, which is the Malesbanget.com way. But we do not always recommend those things that we see differently.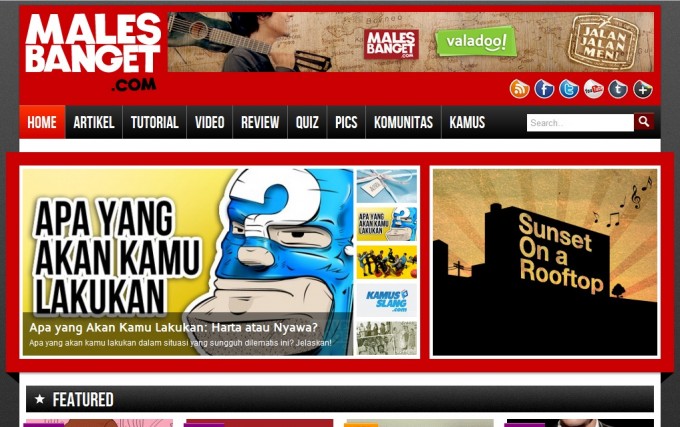 Who are the people behind MBDC?
This is the same MBDC 1.0 team from 2003, now coupled with a professional team with great people in the field of creative, video production, and internet.
Can you share any interesting milestones from your experiences so far?
In the first six months of our first relaunch on April 1 2011, we have passed our first seven digit traffic number without doing any promotions or launching. It was only through social media and we had loyal users from the MBDC before who came back to the site. We have very good traffic growth up until now.
What's your revenue model?
Online advertising and sponsored content. Our strength is creative content production and online publishing. We work together with brands to hold online campaigns with various content, from online ad placements, viral advertorial videos, quizzes, games, etc.
Does the site have investors?
Yes, we have finished our seed investment round and we plan to hold the second round with strategic partners.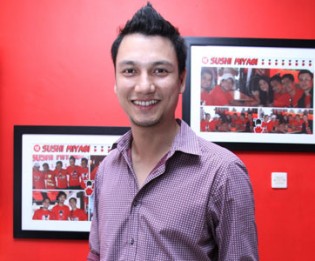 What do you think makes MBDC different compared to its competitors? And do you actually have competitors?
What makes us different is that we are a solid team with the same members since 2003, not another team that was made recently with people who don't know each other before. We are doing this because of our passion. We think there isn't any competitor yet in Indonesia with the kind of audience segment and content that MBDC provides. We also realize that the internet changes very fast, and because of that MBDC would also evolve with the newest innovations that can happen in the internet world. We think that the humor business in Indonesia will become very promising as long as laughing is still a fun thing.
Can you tell us about MBDC's recent collaboration with Valadoo in its travel video series? What other partners do you have?
Jalan-Jalan Men is an Indonesian video travel series that showcases unique places in Indonesia with a different and interesting way to tell the story. This is our first collaborated series with a partner, which is Valadoo.com. The itineraries and places inside the Jalan-Jalan Men video are recommendation outcomes from Valadoo and MBDC who produced the travel show.
Regarding collaborations, we have more distribution partners such as Yahoo! OMG Indonesia, Terselubung, Lintas.Me, and LG where our content can be accessed from LG's Smart TV.
Can you share your upcoming plans?
We will continue to load the internet with interesting and entertaining things. Don't worry, WE ARE FROM THE INTERNET
[Christian's profile picture via: Koran Jakarta]