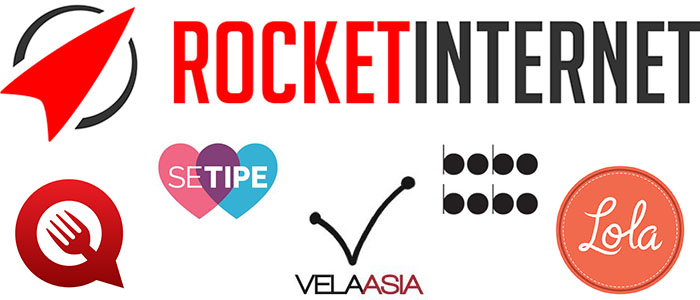 We've seen our share of ex-Rocket Internet employees rocking the startup scene in Asia lately. They helped build companies like Zalora, Lazada, FoodPanda, and OfficeFab from the ground up. But they parted ways and went on to build their own startups. And boy, do they have a good success rate in attracting investors and making waves in the industry.
We talked to five Rocket Internet "graduates" based in Indonesia to find out more about this phenomenon. We found five underlying reasons Rocket Internet helped them in their startup journey so far:
1. Falling into entrepreneurship
Adrian Li, former managing director of Rocket Internet GmbH is now running social dining directory Qraved. He believes that Rocket Internet indirectly enabled non-entrepreneurs to become entrepreneurs.
The salary for those working at Rocket Internet portfolio companies is not too bad. This reduces the relative risk of people who come from their high paying jobs but want to have experience in starting a company.
There are some drawbacks, of course. You don't really have full control over the company and when it comes to equity, yours is quite marginal. But the benefits are good enough to motivate and get people to take a leap to entrepreneur life. Kevin Aluwi, current Zalora Indonesia head of business intelligence who is now preparing to launch his dating site Setipe, says:
I can't speak for everyone, but one thing you realize from working at a Rocket company, from the beginning, is that the prospect of starting a company is less intimidating than it might seem.
All the lessons above are relevant to the core members – the ones who took part during the early days of each Rocket Internet company. Mario Suntanu, a former vice president of Rocket Internet GmbH Indonesia and current co-founder of luxury e-commerce site Bobobobo, says that Rocket Internet recruits those with entrepreneurial traits for the initial development phase of its companies. They are the ones most likely to benefit from the learning process.
2. Executing things, Samwer style
Ken Leaver, a former CEO of Groupon Ukraine, wrote an article about why Rocket Internet operates so well under the leadership of the Samwer brothers (pictured above). They have an excellent management system and employees can learn from it.
Li seconds that by saying (via PandoDaily) "there's a lot any entrepreneur can learn from Oliver Samwer, who is incredibly focused and knows the right questions to ask. He's also very numbers and data driven, which is key to Rocket's scary efficiency."
Christian Sutardi, former FoodPanda Indonesia manager who is now running beauty box startup Lolabox with another ex-Rocket Internet employee Cynthia Chaerunnisa, explains the three most important things he learned from the German-based company:
The quality of execution makes or breaks a company.
The speed of execution determines your success.
Data, Data, Data -> Collect and analyze every data set you can collect. Both Sutardi and Li stress this point of how much they benefit working from such a data driven company. It lets them learn a lot about local customer behavior and the market.
The caveat is, the rigorous execution of Rocket Internet has also served to tire employees and even caused some to flee. It's a learning experience with a stressful price.
3. Learning how to (or how not to) build company culture
One of the things that make or break a startup is its company culture, and this is a learning curve people get to learn from Rocket Internet. Bede Moore and Susie Sugden, both former managing directors at Lazada Indonesia, and are now working together on e-commerce services firm Vela Asia, explain that Rocket Internet provides its employees with a great amount of responsibility, it lets them learn by doing. They add:
This is one of the unusual features of the company, and one of its best. The Samwer brothers created a culture of performance by encouraging people to be proactive and think for themselves. I think that's what makes working there such a positive learning experience for so many people.
Interestingly, folks can also learn a thing or two about how not to build company culture. I think that can be seen with the high turnover rate of Rocket's portfolio companies, especially with the higher ups. Li believes that a long lasting company needs to build morale that is going to hold the team through the rough patches. Something Rocket, in its quest for efficiency, doesn't do very well.
4. Valuable networks

Aluwi says that the most highly paid and talented people in Indonesia usually end up working in telcos, retail giants, mining, and other big industries. Rocket Internet manages to bring that pool of talent into the e-commerce industry. He adds that "there really aren't a lot of options for somebody hungry to learn e-commerce to go to for a guaranteed world-class "education" except for Rocket."
This thought is shared by Sutardi:
I joined Foodpanda on day one and I learned much more than I've ever expected. It's just amazing to work with all these former McKinseys, BCGs, Bains, Goldmans, JPMorgans – who went to school in Harvard, Yale, or INSEAD. You automatically learn new things every day, no matter how smart, experienced or educated you already are. There are always smarter people around you – there's no way not to learn. I think Rocket Internet's advantage are the employees exceptional background paired with aggressiveness, motivation and discipline.
The best thing about this network, is that it can be beneficial to all Rocket Internet employees in the long run, even when they have parted ways. These people, who know each other from the Rocket Internet days, are drawn by similar experiences, with stories to tell from each of them. They are now linking up and making waves together in the startup scene.
These contacts can be used to find good partners or employees when building new startups, like in the case of last minute hotel booking app HotelQuickly, which employs a lot of ex-Rocket Internet employees. Vela Asia, Bobobobo, and Lolabox are also founded by ex-Rocket folks. Their startups are also linking up too. Rocket Internet has indirectly become a "good matchmaking service" says Li.
5. Bigger credibility to investors
With all the progress of Rocket Internet so far. It indirectly puts credibility onto its employees who contributed to its explosive growth. They are the ones who have been handpicked by Rocket Internet, which means they're at least a good candidate to begin with.
If you're one of the guys who started one of Rocket Internet company portfolios, that makes you look even more special. This is because you've gone through the hardship of running the company under the stern Samwer brothers, and learned a lot of things in between. This huge experience has its own appeal when pitching to investors.
This is perhaps why we are seeing numerous funding announcements from the graduates' startups recently. Qraved managed to raise investment from high profile investors including 500Startups and Skype co-founder Toivo Annus, while HotelQuickly raised $1.16 million last week.
So far things are looking good. Rocket graduates and Rocket Internet are indeed raising funds. But until they stop burning cash and turning a profit, we'll hold our judgement on whether they are successful entrepreneurs. Time will tell.
The above five reasons might explain why we are seeing people quitting their jobs at Rocket Internet and starting their own entrepreneurial careers. It's a healthy combination of entrepreneurial experience, knowledge of Asia's markets, and thirst for startup. No doubt, there's more to come.
(See also: Lessons and impact: the Rocket Internet empire in Asia)
(Editing by Anh-Minh Do)