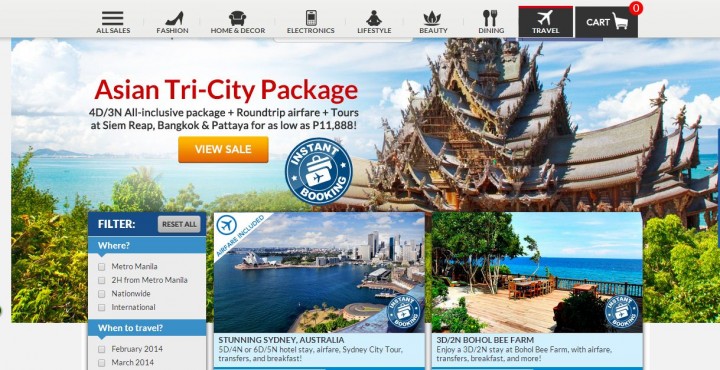 Are travel deals the best way to scam online buyers? Around two years ago, a number of Filipino consumers were victims of daily deal sites' travel deals. This time around, fingers are being pointed at Cash Cash Pinoy, accusing it of posting travel deal scams on its site.
Philippine tech blog Technoodling wrote a sensationalistic post scolding Cash Cash Pinoy for posting scammy travel deals. It even made a large image with the word 'scam' splashed over the Cash Cash Pinoy brand name for emphasis – effectively passing a verdict without clarifying matters.
But what sparked the rant in the first place?
Essentially, a customer purchased a travel deal that promised 54 percent off, but ended up paying much higher than what the promo costs. This meant that the customer bought the discounted ticket price of Php 20,988 (US$467) through the site, but still had to pay an additional Php 17,888 (US$398) for the airline fee.
Why? Its fine print showed that some aspects of the travel fee are not included in the promo such as the airline surcharge and taxes. But in an interview with Cash Cash Pinoy CEO Frederic Levy, he explained the reason behind the non-inclusion of such fees and why these deals are no scams.
"It is clearly stated that the surcharge and taxes are not included in the travel deal's price, because the problem is, we cannot give an estimation. This surcharge depends on a lot of parameters that we cannot control," he says.
"Surcharges can change a lot depending on the location, dollar rate, policy of the airline, requests of the customer, and more. We'd prefer to give the price all in but we don't have access to this information."
What went wrong?
Cash Cash Pinoy did not exclude the surcharge and taxes to make it look like there's a discount, says Levy.
"We always show the original price based on the original published rate. The Cash Cash Pinoy price is what we get from the airline company, hotel and every aspect of the travel experience."
After Cash Cash Pinoy's investigation on the specific purchase written about by Technoodling , Levy stated that the customer, who he believes is the author of the post, had a number of requests that made his surcharge blow up to US$398. He says that this customer insisted on travel during holy week, one of the Christmas-like peak seasons.
Apart from that, Levy claims he got some additional services from the travel agency, such as the insurance. "If he didn't choose to get his add-on service, his surcharge would have been only around Php 6,000 (US$133) to Php 9,000 (US$200)."
According to Levy, the website posts around 150 to 200 travel deals and sells around 2,000 to 3,500 travel vouchers a month.
Compliant with regulations
Cash Cash Pinoy partners with different airline companies and negotiate specific rates based on the volume of people it transfers. "We only take money when we sell something. We don't even take any listing fees. It's not our interest to feature deals that are not good."
The daily deals site is compliant with regulations and has never been fined by the Department of Trade and Industry, says Levy. In his official statement, he says:
CCP is the co-founder of the Digital Commerce Association of the Philippines and we constantly adhere to legal best practices. We wish to emphasize that every promo offered on our site is submitted to the Philippine Department of Trade and Industry. They pass regulatory verification and are approved before being offered to the public.
If there's one thing that Levy laments, it is that Cash Cash Pinoy's reputation has been affected by this ordeal. He says that it's their reputation that brings them customers and people should not be misled by this accusation. Filipino consumers are sharing their own reactions to the Technoodling article on Twitter .
Purchasing travel deals can really be tricky as there are technicalities involved in these promotions, specifically related to fluctuating surcharges and taxes. Levy asks that users should check these costs with the travel agency before booking.
While it's true that the fine print isn't easily noticed by a buyer (as Technoodling pointed out), Cash Cash Pinoy is not alone in excluding surcharges and taxes from its discounted price. However, not all details of the inclusions of limitations of the deal are easily seen under its 'What to Know' tab. To reveal the long list of reminders, users have to tick the small 'more' button.
Perhaps there's a case to be made for making these exclusions more obvious to buyers in order to minimize misunderstanding.
(Editing by Terence Lee)