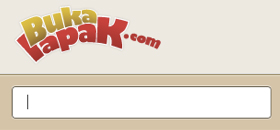 Are you going to buy a bike in Indonesia? Try searching for it first on Bukalapak.com! With more than 12,000 bike-related products available, Bukalapak.com is currently the largest online marketplace for bikes in Indonesia.
Bukalapak.com is actually an online C2C marketplace where people can buy or sell any goods at no cost. It isn't just limited to bikes. Bukalapak.com was also one of the startups who pitched on Jakarta Ventures Night last week.
Launched in March 2010, Bukalapak.com has stunning statistics to show us: 9 millions monthly pageviews and still growing. So far, 64,000 products were sold on Bukalapak.com and there are currently 36,000 products available from all categories.
During the team's presentation at Jakarta Venture Night, Bukalapak claimed that its pageviews per user were the highest among other online marketplaces in Indonesia. People are also spending more time on their site (than others), making it one of the most sticky online marketplaces in Indonesia.
With its pastel color and AJAX-powered simple user interface, Bukalapak.com offers a comfortable "place" for users to navigate on the website. If you are lucky, you may find the sellers online and chat with them to ask for more info or to bargain using its real-time chat feature.
Achmad Zaky, the co-founder of Bukalapak.com, told Penn Olson that he had a dream to make Bukalapak.com a convenient platform for people from any class to buy or sell products and make money. The start-up idea was inspired by his hobby."We love bicycling and we love programming. We create Bukalapak.com then," said Zaky. His understanding and passion for biking is one of the reasons why Bukalapak.com has a solid community of bikers who frequently visit the site.
Bukalapak.com is a subsidiary of Suitmedia, a company that focuses on web design and mobile application development for corporate clients. They are currently not backed up by any investors. The team still prefers bootsrapping as it keeps them on their toes and out of their comfort zone. "But we hope it could be a new sustainable company. Even bigger than Suitmedia," said Zaky.
In the near future, Zaky and his team plan to rework Bukalapak.com, not only on its visual looks, but also the features and user experience.
Connect on Facebook: